Lucia Candu '94 of the New York Department of Transportation
'You see the results of your work by walking down the street'
Lucia Candu '94
Chisinau, Moldova / Pearland, Texas
Education: BA in English and Finnish languages and Literature from Babes-Bolyai University in Cluj-Napoca, Romania; MS in Urban Policy and Management from New School University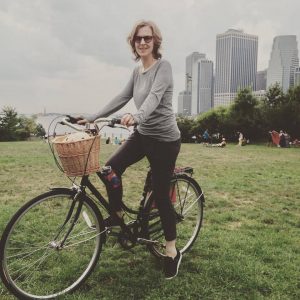 What is your current position? I am the Deputy Director for the Capital Budget for the New York City Department of Transportation (DOT).  The DOT is one of the largest departments in the city's government and is dedicated to developing and updating the city infrastructure. We reconstruct bridges, resurface city streets, create new public spaces, operate ferries – in general we are in charge of one of the largest transportation networks in the world.  It's a very interesting job. You see the results of your work every day just by walking down the street.
What are your responsibilities?  I lead a team of four budget analysts within my unit. Each one of them is in charge of a different aspect of budget planning. Our team ensures that funds for critical projects are always in place so that the projects can move forward smoothly. The budgeting process is complex, but it operates on the basis of transparency and community participation. It's important to have a systematic approach to be able to run the city infrastructure long-term.
What do you like most about your job? I train the people we hire to become skilled budget analysts and it's rewarding to see them grow professionally. I firmly believe in on-the-job training, which comes with practice and experience. When a new analyst joins our team, I explain every task step by step and then do it together with her/him for the first time. You don't learn how to use these sophisticated systems in school, so being able to learn your job quickly and being adaptable is important.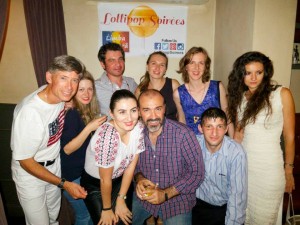 How did you start working at the New York City Department of Transit?  I completed a Master's Degree in Urban Policy Analysis and Management, after which I did internships at a number of NGOs.  These experiences helped me to get my foot in the door to an entry level position at the Office of Management and Budget, the main financial office of the NYC government. That's where I learned how city budget was kept and from there I was able to progress in my career.
Are you involved in any community projects? I am a  founder and organizer of  Lollipop Soirees where I organize monthly events for the international community in New York City.  The events are centered around learning about and celebrating holidays from various countries, such as  Spring Day Martisor, the Romanian Blouse Day, the Moon Cake Festival, the Language Day, and Pumpkin Fest. Through these events I've met many wonderful people both from my native Moldova and from many other countries.
Do you think that the FLEX program influenced the development of your career? Absolutely. The fact that I learned English at a young age was a great factor in my career success.  Participating in the FLEX program was a huge deal for me on a personal level as well.  I was always mesmerized by America as a country and dreamed of one day visiting it. To be able to spend a year there as an exchange student in 1994 was something I couldn't possibly hope for or even imagine at that time.  After I returned to Moldova, I applied for the Muskie Graduate program, which resulted in the successful completion of a degree in public administration. Twenty years later I am also still in touch with my host family.
Message to FLEX alumni: Do not consider anything boring before learning more about it. Be open-minded and eager to embrace experiences and challenges. Eventually they will help you find your individual career path.
Interview compiled by Tatyana Movshevich