Rima Beridze '11 (Tbilisi, Georgia/Powell, OH)
Project Title:  Step Toward Success
Project Location:  Tbilisi, Georgia
$814 in 2014 FLEX Alumni Grant Program Funding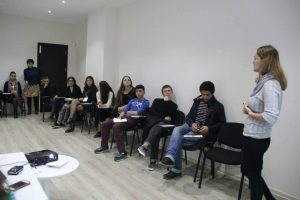 On October 17-19, 2014 FLEX alumna Rima Beridze '11 with support from Georgia's Ministry of Justice organized a three-day professional development seminar for 11 children from families with parent(s) who are ex-offenders.  The seminar that took place in Mediation House in Tbilisi, Georgia provided participants with the information about career opportunities, trainings on resume and cover letter writing, and information on exchange opportunities and volunteering. The event also included sessions focusing on developing leadership skills among this group of often overlooked and disenfranchised youth in the community.
The project aimed to provide participants with steps to success in their professional life and give them an opportunity to interact with other students to learn skills for better integration into society.  FLEX alumni Bakar Khachidze '13, Givi Makharadze '13, Ruso Zabakhidze '13, and FLEX Alumna Coordinator in Georgia Anjela Pakhlajian '10 volunteered as trainers and mentors for the participants.
U.S. Embassy Cultural Affairs Assistant and Fulbright alumna Tea Kuchukhidze talked to students about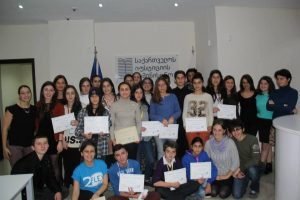 educational programs available to study in the U.S, while Esma Gumberidze ' 13 held a presentation about overcoming challenges and being an active member of the community, in the face societal misunderstandings and in Esme's case, the lack of disability awareness in Georgia.
Nino Shashiashvili, spokesperson from the Center of Crime Prevention and Innovative projects under the Ministry of Justice of Georgia, also participated in the seminars as the leading trainer. Nino points out "Presentations held by trainers resulted in positive emotions and huge interest in beneficiaries, which emphasizes the efforts of the organizers."
This project was inspirational and motivational for the beneficiaries.  As the result of the event, nine participants applied for FLEX program and are currently awaiting the results of the second round of FLEX testing. The project organizers established strong ties with the Ministry of Justice and will plan the second part of this project in 2015, aimed to work with youth in rural regions of Georgia.  To highlight a personal success, after the implementation of the project, FLEX alumna Rima Beridze applied and was chosen to be FLEX City Representative for Tbilisi, Georgia.
To learn more about this project follow this link: https://www.facebook.com/steptowardsuccess