"With great power comes great responsibility" said Bayarjavkhlan Bayanmunkh '19 (Baruun Urt, Mongolia/Yale, MI), when asked to reflect on receiving the "Young Person of the Year" award from Mongolian Prime Minister, Ukhnaagiin Khürelsükh, last December. This award is an annual honor that is given to a young Mongolian who has contributed immensely to their communities while also excelling academically. Bayarjavkhlan was selected to receive this high honor, because as a high school senior handling a rigorous course load, he also managed to impact his local community in "FLEX-spirited" projects aimed at developing young people.
Bayarjavkhlan demonstrated his passion to help other young people within weeks of returning to Mongolia after his FLEX year. Using the skills, he learned from WYLET (Workshop for Youth Leaders in English Teaching), he taught English to participants of the "Be Positive" project he facilitated to enhance young people's leadership skills. Then, after being chosen for the position of FLEX City Representative for Baruun-Urt, Bayarjavkhlan began organizing a number of projects aimed at youth development including, "Generation Z" a project aimed at teaching teamwork and leadership skills to youth  and "Hey College!" a project to help youth consider education opportunities.  These projects directly impacted over 500 young people in his community.
Driven to help even more people, Bayarjavkhlan along with two other alumni, Ninjin Jargalbayar '19 (Ulaanbaatar, Mongolia/Humeston, IA) and Zandan-Ochir Ganbold '19 (Altai, Mongolia/Terry, MT) started the "Let's Volunteer for Clean Air" project to educate citizens of Ulaanbaatar and Baruun-Urt about the dangers of air pollution. These bigger projects impacted a larger group and helped Bayarjavkhlan to grow personally and in his volunteer capacity.
He gives a lot of credit for his success to his FLEX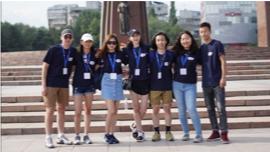 experience, saying "I am proud to say that FLEX has changed my life in a great way. I wouldn't have done all of these things without my FLEX family's support. The 'Young Person of the Year' award is also FLEX Alumni Mongolia community's accomplishment"
As he prepares to begin university in the United States in a year, he plans to continue generating an impact in the world by using his knowledge and education. Bayarjavkhlan is an inspiration to many young people striving for a better tomorrow.
Written by Tsedensodnom Uranbold '18 (Ulaanbaatar, Mongolia/ Kemmerer, WY)