FLEX Alumni from Central Europe and the South Caucasus came together to attend the Eurasia FLEX Ability workshop in Dubingiai, Lithuania, known in the hashtag world as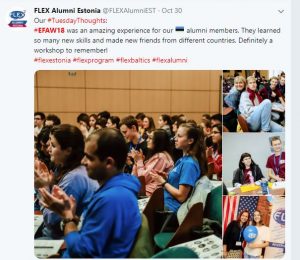 #EFAW18.  At the workshop, the 95 FLEX alumni in attendance worked together to develop projects to take home to their countries of Armenia, Azerbaijan, Estonia, Georgia, Latvia, Lithuania, Poland, and Romania; projects that will meet real needs in their communities and that will be organized by the now-leaders, the young alumni of the Future Leaders Exchange program.
Workshop participants took part in sessions developed to help alumni find and refine their voice.   Through trainings on storytelling, debate, and simulation games, like Model United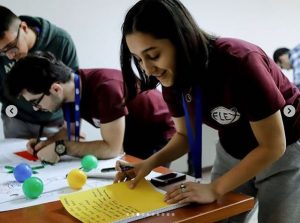 Nations, alumni learned how to formulate their thoughts and tell their stories and practiced making their voice be heard.
The workshop was administered by the FLEX Alumni program and succeeded with the support of the FLEX Alumni community.  The key trainers at the event included American Councils staff working along-side senior FLEX alumni living in and from participating countries.
Aleksandre Zibzibadze '10 (Tbilisi, Georgia/Tempe, AZ) Founder and Supervisory Board Member at Georgia's Future Academy led training sessions on debating while Shorena Megrelishvili '08 (Zestaphoni, Georgia/ Fairmount, IN) Project Manager at Civil Development Agency (CiDA)trained alumni on how to take part in and later administer simulation workshops in their countries.
Eurasia FLEX-Ability Workshop 2018

Ninety-five FLEX Alumni from the Central Europe and the South Caucasus gathered in Dubingiai, Lithuania to bag memories from Eurasia FLEX-Ability Workshop. At #EFAW18, FLEX Alumni learned to develop projects to take home; projects that will meet real needs in their communities. Want to know more about these projects? Watch this short video and don't forget to share!Exchange Programs – U.S. Department of State American Councils for International Education FLEX Alumni Lithuania

Posted by FLEX Alumni Program on Tuesday, November 6, 2018
Alumni mentors at the event included Turgut Mustafayev '97 (Baku, Azerbaijan/ Chico, CA) Associate Vice Rector for Student Services  at the Azerbaijan Diplomatic Academy ;
Narek Sukiasyan '13 (Gyumri, Armenia/ Sackets Harbor, NY) Project Assistant at Transparency International  Anti-Corruption Center; Anush Petrosyan '14 (Dilijan, Armenia/ Woodstock, VA) FLEX Alumni grant winner and student at American University of Armenia;
Robert Nahapetyan '09 (Gyumri, Armenia/Cambridge, MN) Community Relations Specialist at BlaBlaCar (Comuto Poland) and a PHD student at the University of Warsaw, Poland;
Marika Kurdadze '09 (Akhaltsikhe, Georgia/Roscommon, MI)Global Programme Coordinator at United Nations Population Fund (UNFPA); and Arman Azizyan '11 (Armavir, Armenia/Sturgis, MI) Assistant to the Deputy Minister at the Ministry of Sport and Youth Affairs in Armenia.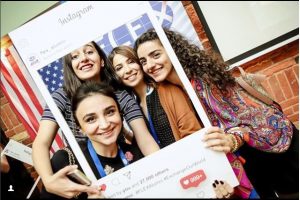 To celebrate the 25th anniversary of the FLEX program, participants at the workshop joined local FLEX alumni living in Lithuania and representatives of the U.S. Embassy in Lithuania and other Embassies from participating FLEX countries attended a reception in Vilnius.   Deputy Chief of Mission at the U.S. Embassy in Lithuania Marcus Micheli congratulated alumni on being part of a program that has changed the lives of so many young people around the world.  Lukrecija Neverovskaja '17 (Grigiskes, Lithuania/Hainesport, NJ) spoke on behalf of the alumni community in Lithuania and shared the lessons that the FLEX program has offered her and highlighted areas of her personal growth as a part of the FLEX program and later as the Alumni Coordinator for the FLEX Alumni program in Lithuania.
The workshop was an opportunity to bring together alumni from eight countries and offer them the chance to get to know one another, their cultures, and countries.  Alumni made presentations about their countries and taught each other dances from their countries.  Alumni worked together in small mentor groups with participants from different countries,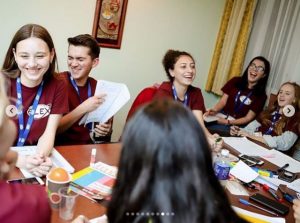 with the hope that if you are debating with a fellow FLEX alumnus/a from another country, you will not only learn more about debating, but about another country as well. And as trainer Benjamin Thurn from American Councils stated at the end of the workshop, "If you leave an event with one new idea, one new project, one new skill, and one new friend, you should mark it off as a success."  FLEX alumni left the workshop with new friends from all around the world.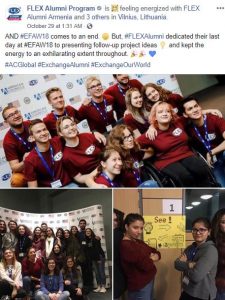 The follow on component of this workshop requires that all participants organize a project to share an aspect of this workshop with others in the community where they live.  Alumni will organize follow on #EFAW18 projects from December 2018-March 2019.
For a clearer picture of the vision and voice of the Eurasia FLEX Ability Workshop in Lithuania, check out the workshop video and follow the social media posts that alumni created at #EFAW18.