One of the most long-lasting lessons alumni learn during their FLEX year is the importance of volunteering. After returning back home alumni regularly volunteer in their communities. With the initiative of Gulnar Gurbanova '14 (Baku, Azerbaijan/ Iron, MN) and Alumni Coordinator Sabina Suleymanova '14 (Baku, Azerbaijan/ Traverse City, MI), alumni organized a visit to the Women and Children's Shelter in Baku, Azerbaijan.  FLEX alumni organized a clothing drive to collect donations for the children, reaching out to the alumni network and through social media.   Some generous people donated money as well, so alumni were able to buy fruit and diapers for the children.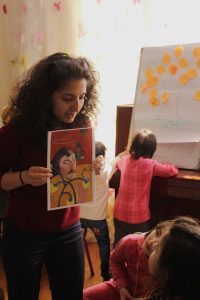 Sayyara Huseynli '12 (Sheki, Azerbaijan/ Kennewick, WA) used her skills as the Head of Education at the YARAT Contemporary Art Space in Baku to conduct an art workshop for the children during the visit.  She started her workshop by drawing a tree having the children define the meaning of "art" on stickers and add them to the tree as its leaves. This allowed the children to express their thoughts and create something together as a team. Then Sayyara showed her young audience self-portraits of different famous painters. The children were excited to give their explanations of the paintings. At the end of the workshop, with the help of alumni and volunteers, the children created their own self-portraits.
It was a productive afternoon with the children, as alumni and volunteers were able to teach them something new while spending some fun time together. The participating alumni believe that the knowledge the children receive from projects like this will have a positive impact on their education and worldview.
Written by Sabina Suleymanova '14