Alumni Coordinator Sabina Melikzade '19 (Lankaran, Azerbaijan/Sierra Vusta, AZ) interviewed FLEX alumna Shabnam Valiyeva '15 (Barda, Azerbaijan/ Swansea, IL) about her Global Village experience. The Global Village for Future Leaders is traditionally a six-week professional development program hosted on the campus of Lehigh University in Bethlehem, Pennsylvania. In 2020 and 2021, the program was run online. 
Sabina: Hi Shabnam, go ahead and tell us, please, where did your journey start? 
Shabnam: In 2015, when I saw a Social Media post about Global Village, I immediately knew I had to become a participant sooner or later.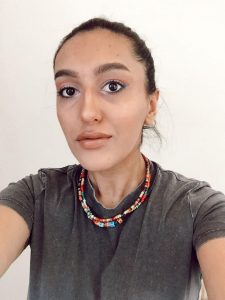 During my stay in the U.S., I had many chances to represent Azerbaijan and share my culture and learn about the diverse culture of America that we can't really see across the ocean. The melting pot. It allowed me to visualize a better community back home, and I have tried to contribute to my hometown ever since I became a FLEX alumna in 2015. 
The FLEX community shaped me into a person who is eager to be a helping hand and support the community. Unfortunately, in my country and region, the idea of volunteering and free community service still hasn't been developed as much as in the U.S., but we, the FLEX alumni, have the power to mobilize our skill sets and contribute to our society. 
Sabina: What was your main goal applying for the Global Village program? 
Shabnam: Applying to Global Village has been on my bucket list for a couple of years. While being an Alumni Coordinator I had a chance to travel to different regions and to scan the current situation for youth. My fellow alumni who graduated from Global Village hosted successful projects that I was also part of, and it all inspired me to apply. 
I was very honest while applying, as I wanted to test if I am really a good candidate; I wanted it to be a clear win. I researched the idea that I wanted to pursue as a follow-up project and prepared for the application questions. For a couple of days, I thought about the questions and came up with the most honest answers and clear goals. I had a vision and wanted the selection committee to see it as well. 
Sometimes I would wake up in the middle of the night and come up with a cool addition to my project and would write it down immediately, therefore I would keep a journal on my nightstand. 
Sabina: Due to COVID, your Global Village experience was virtual. How did it feel? 
Shabnam: Our workshops and sessions were full of people who were so eager to do something valuable for our countries. I learned so much not only from the mentors, but from the fellow participants as well. 
Once the Global Village sessions started, I felt like as if I was shifted back to my U.S. community. I met many participants who later became my very first virtual friends. We would spend quality time via virtual sessions and get to know more about various topics. 
Sabina: What achievements have you gained through your Global Village experience? 
Shabnam: One of the most important achievements was working with my project team and finalizing our project assignment successfully. 
We worked with an Italian ITC company and as a person who has never been introduced to the IT or ITC field, I felt a bit concerned if I would be productive on our team and manage to contribute. But despite my concerns, this turned out to be one of the most memorable experiences I have ever had. I enjoyed doing the research and collecting requested information and brainstorming with our team. 
Luckily, our project team members all were FLEX alumni—from Azerbaijan, Georgia, and Kyrgyzstan. 
Once again it was proven that the true team spirit can save the day.  
Sabina: What did Global Village teach you? 
Shabnam: While applying for Global Village, I had a bare sketch of my follow-up project. Within the first hours of Global Village, I already managed to improve the action plan. Highly talented professionals were involved in the process.  
The breakout sessions with fellow participants from all around the world taught me one thing: Global Village is not only for us to grow and contribute locally, but globally. I plan to involve many participants in my upcoming projects and events, and so do others. Knowing that I could be helpful for someone in Italy, Kenya, Albania, or any other Global Village participant county makes me feel powerful and united.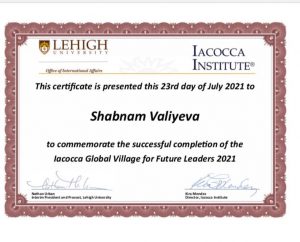 Sabina: What are your goals after Global Village? 
Shabnam: I am currently negotiating with members of my local community and working on initial steps of my follow-up project, which I plan to implement in my hometown, Barda. My goal is to launch a place similar to American Corners and provide the locals with access to the global world. I believe this project can help people who are interested in practicing English and joining various events, sessions, workshops, etc., but don't have the platform. 
This interview was lightly edited for clarity. 
Written by Sabina Melikzade '19
Interested in applying for Global Village? FLEX and YES alumni can apply for full tuition scholarships between now and January 15, 2022. Don't wait, apply today! https://global.lehigh.edu/iacocca-institute/global-village/apply