Halfway around the world, on her own and living with an American host family, Gunel Isakova, a 17-year-old Muslim exchange student from Azerbaijan, found refuge in an unusual place.
"I went to church every Sunday," Isakova said, recalling her life in America 13 years ago. "The values they were teaching were wonderful. I was keen to go even though it was Sunday morning."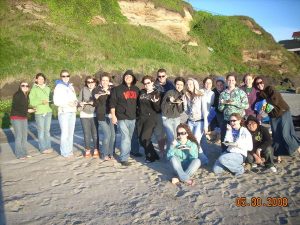 When Gunel arrived in Oregon in 2007, crossing the Atlantic Ocean and all of America before landing in Newport, Oregon, on the Pacific Coast, she was truly worlds away from her hometown of Zaqatala, Azerbaijan. She was guided by the FLEX motto: not better, not worse, just different. She also brought with her to the U.S. an open mindset, cultivated by growing up in a part of northern Azerbaijan that is home to many ethnic minority groups. In fact, her father is a member of the Tsakhur minority group that numbers about 20,000 worldwide and he still speaks the Tsakhur language. "What I love about my hometown is that it is very diverse," Gunel said. "People are more tolerant there."
Her own tolerance, combined with curiosity about people and places in the world, have taken Gunel on a fascinating life journey, including: teaching English on the Riau islands in Tanjungpinang, Indonesia; studying health and nutrition in the United Kingdom; attending the Global Village an annual program at Lehigh University in Pennsylvania; and now working in her home country bringing the internet and webinars to rural schools cut off by the pandemic.
However, it wasn't all easy going. Gunel applied more than once before she was invited to take part in FLEX. Even then, she faced obstacles. Though diverse, her hometown, tucked away in a northern corner of Azerbaijan sandwiched between the countries of Georgia and Russia, is a place of traditions. These traditions include a deep respect for the views of family elders and a belief that young women shouldn't venture far from home, especially to a place as far away as the U.S. "My grandfather was against my joining the FLEX program," she recalled during a recent interview from her office in Azerbaijan. "And he swayed my father into being against the exchange as well." Gunel's mother, an art teacher, convinced the family to let her go.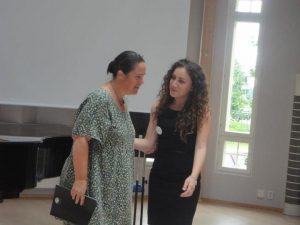 In the U.S., Gunel dove into her new life from the start, supported by what she calls "the best host family." Her host father, the pastor of the church Gunel attended, her host mother, and two host sisters made her feel at home, asking questions about her life in Azerbaijan and introducing her to America. "I loved that they were curious, asking about my religion, talking about similarities and differences. They never pushed me. I just loved it."
Life in the U.S. also left its mark on Gunel by impressing upon her the importance of volunteering and engaging in community service. She returned to Azerbaijan inspired to continue community service, and that mission has informed her life to this day. During her year working as a volunteer in 2012 at the Oland Island Institute in Finland with the European Voluntary Service, she learned international best practices in conflict resolution that she could later apply to conflicts in Azerbaijan. Then for eight weeks in 2015, as a volunteer she taught English to Indonesian school children on the Riau Islands near the Straits of Malacca.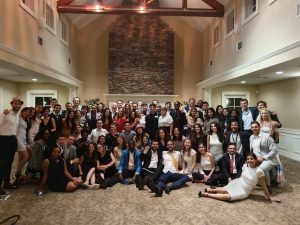 In 2019, in an acknowledgement of her impressive dedication to social causes and professional acumen, Gunel was selected to attend the Global Village, which gathers young leaders from around the world at a problem solving and leadership summit at Lehigh University in Pennsylvania. Her participation was facilitated by the scholarship provided to FLEX and YES alumni by the U.S. Department of State Bureau of Educational and Cultural Affairs. There she found inspiring and experienced entrepreneurs from 35 countries sharing and learning about best business practices. The experience confirmed Gunel's desire to one day start her own company that would devise science-based interventions to promote health through physical activity and good food choices.
For now, though, Gunel is still gaining experience and broadening her network of future partners. In her current job, she works as a corporate social responsibility (CSR) specialist at Lu-Mun Holding Investment Management Company, a conglomerate based in Baku, Azerbaijan. During the COVID-19 pandemic, the position has allowed her to focus on supporting online education aimed at child development at orphanages by providing technical support and volunteer teachers for language, public speaking, health, and other classes. Gunel herself conducts webinars for the schools on topics related to mental health and the importance of a balanced nutrition and physical activity.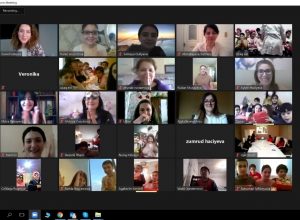 In fact, the pandemic has made her busier than ever. "I never stopped during the pandemic. I didn't have the opportunity to sit and stay home." To support families disadvantaged by the pandemic, she along with a few friends delivered food packages using funds raised through a crowdfunding campaign, connected supporters with vulnerable families, established regular contact with elderly citizens who are self-isolating, and provided individuals with necessary medicine.
Her passion for the community encouraged her to establish Biz Birlikdeyik, translated as We Are Together, a social initiative that aims to bring together people with similar values to organize and implement community projects.
Gunel looks back on her exchange year in the U.S. as "a first step that simply changed my life. It changes your brain, thinking, and mindset. You become a global person." And how exactly do you become a global person? "Be curious, question and observe," Gunel says. "And explore new things and try. Even if you fail, you will learn something."
---
Interested in attending the Global Village for Future Leaders like Gunel? Find more information in this Bradley Herald article.
Applications for this annual opportunity for FLEX and YES alumni will be available starting in November 2021:  Find the Global Village application at https://global.lehigh.edu/iacocca-institute/global-village/apply.