Shabnam Valiyeva '15 (Barda, Azerbaijan/Swansea, IL) was hosted by a 'soccer family' during her exchange year. She and her host family would practice in the backyard near the corn field.  She enjoyed the tempo of life and the activities she did with her host family.  Shabnam easily blended in by joining the local soccer team and joined a cross-fit gym to get in shape for tryouts. It was a journey to remember.
This is Shabnam's story. She loves to play soccer and now she passes the ball to the young girls in her town in Azerbaijan.
"Playing soccer and being at practice in my U.S. community reminded me of how lucky I was to be able to experience it all – especially in the country of my dreams. Also, it reminded me that there were so many girls left in my hometown who were even more skilled than me or more eager, but unfortunately, they never made it beyond the soccer field in their yard.
In such small towns where I am from, girls usually are expected to take part in traditional girlie stuff. But I knew it was wrong to think that other girls were not interested in trying something new, like I was.  Girls have their dreams and interests too and those things shouldn't be sacrificed in the name of stereotypes and old-fashioned thoughts, which made their ways to the roots of the community," shares Shabnam.
One day Shabnam got a notification from her then Alumni Coordinator Sabina Suleymanova '14 (Baku, Azerbaijan/Traverse City, MI), that she could apply to hold a project in her community.  She applied immediately. Her project was approved.
"As fate goes, just a few days before this open call for projects, I got a call from my father that his friends, who were professional soccer coaches, just launched the very first girls' soccer team in Barda. This was the turning point and I knew we had to support the local team," she remembers.
Shabnam organized free soccer practices for girls and with that launched the project "Girls for Soccer".  The practices were co-organized by Coach Jabbar who was then leading the junior team for children from internally displaced families in the area.
Shabnam asked parents to come with their daughters and join the soccer training in order to learn too and support their daughters' dreams.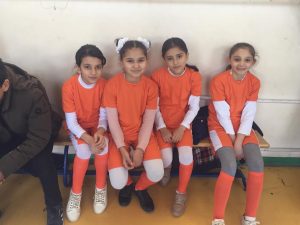 "We had around 30 kids, both boys and girls joined in," Shabnam remembers. As it gained notoriety in the area, more people came out to support the project.  Former professional soccer players who used to play for ABN Barda, back during the Soviet period, came to practices to share their experiences and talk to the parents as well.
Coach Jabbar was in charge of leading practices, sharing the basics of soccer, and teaching the kids new soccer moves. Players from the local boys' team who had more experience playing the game, joined as volunteers to help the girls to practice. "This was one of those rare events where both girls and boys interact together outside of school.  In small towns or rural areas young boys and girls do not mix.  But this time around things were different. I saw these pre-teens play together, learn new things, and experience new friendships."
Shabnam recalls, "I interviewed the girls before and after the program.  At the beginning they were shy – they did not know what to expect from that event.  But later when local tv reporters interviewed them, they were so eager to share their experience and were inviting girls to join the tryouts."
"Girls, please follow your dreams, trust us we need you to make our town's soccer team stronger," said Aysu, one of the players, when interviewed.
"I remember how one of the participants who was the goalie at one of the games was so excited to put the uniform on.  As if she was conducting a very important mission," recalls Shabnam.
The number of girls who registered to be part of the project increased daily and the team eventually became self-sufficient with the support of the families and the local government.
"I would never think this kind of project would be considered acceptable in my town.  Looking back now to those days, I a feel proud and powerful. It feels so good to make light event if it appears only like a match in darkness", shares Shabnam.
Today the team continues on.  The girls have uniforms to wear, the equipment they need, and hearts full of ambitions to join the national one day in the future. Maybe they will grow up to be astronauts, opera performers, or swimmers, but we will know for sure that they once had a dream to play soccer and they had a chance to give it a try.