Project Organizer: Malike Alenova '15 Event Location: Jala-Abad, Kyrgyzstan $260 in FLEX Alumni GYSD Matching Grant Funding $520 cost share from: Reproductive Health Alliance, NGO Youth Citizens Development, Jala-Abad Lyceum #14  
'Schools in the Jalal-Abad region do not provide health education, so while smoking is declining worldwide, it remains a common harmful habit in Kyrgyzstan. Through my project I wanted to promote
healthy lifestyle and help students deal with stress in a healthy way,' says Malike.
On April 15-17 Malike Alenova '1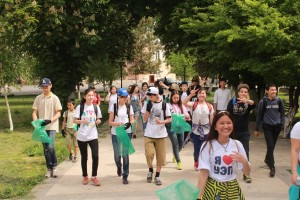 5 and Kunduz Efronova '15 organized a three-day training called 'Health Education Lifestyle Partnership' or simply HELP for 20 high school students representing different schools in Jala-Abad. The project took place at Lyceum #14, which hosted the event for free. The Reproductive Health Alliance and an NGO Young Citizens Development invited trainers, provided equipment (camera, projector), and logistical support.
The project was promoted
on social media. In order to apply, students had to fill in an online application form highlighting the most widespread teenage issues in their city.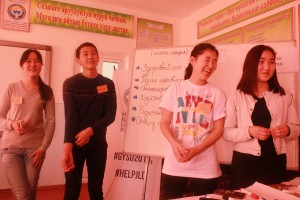 During the training, students attended sessions on the topics of time management, interactive learning, volunteering, and first aid. They also had a chance to discuss wider issues, such as the role of students in society, and prepare presentations about healthy living. On the last day the participants and organizers cleaned up a 5 kilometer stretch of road collecting 50 large bags of garbage. After a busy morning of hiking and cleaning they had a relaxing picnic and played outdoor games. The students were awarded with participation certificates and encouraged to spread the new knowledge and skills among their peers.
Feeling inspired, the student participants are now conducting follow-up presentations and volunteer events in their communities. The project was covered in local media.