One of the many goals that FLEX alumni strive to achieve with the projects they organize in their local communities is to raise awareness around issues that are not widely discussed.  One such issue that the FLEX alumni community in Kyrgyzstan focused on in 2020 was raising awareness and advocating for people with disabilities. This was done in celebration of the 30th anniversary of the Americans with Disabilities Act. Alumni organized a variety of events across the country to benefit their local communities.
In August, Anvar Medelbek uulu '10 (Naryn, Kyrgyzstan/Anchorage, AK) in cooperation with the Equal Rights Social Center, organized a project to support local students with vision disabilities. These students' classes were moved online due to pandemic and they did not have access to their books to start the new school year in September. Anvar, with the support of a USG Alumni Grant from the U.S. Embassy in Bishkek, created voice recordings of the 9th and 10th grade books and the Equal Rights Social Center provided the audio equipment necessary to edit and record the books.  The project provided the students the chance to continue their education while staying safe at home.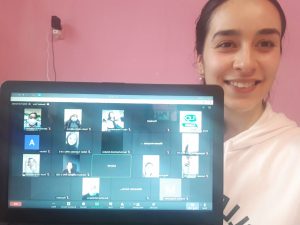 A second activity took place in the southern city of Osh in November and December. Shakhlokhon Isakova '16 (Kyzyl Kiya, Kyrgyzstan/Pataskala, OH) organized an online Talking Club for current students with disabilities of the English Access Microscholarship Program (ACCESS) in Osh. The students took part in listening and speaking activities and also learned about the FLEX program, American culture, and Shakhlokhon's experience in the U.S.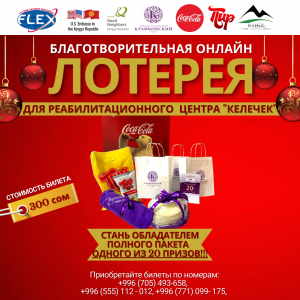 Lastly, Alumni Coordinator Kamila Churukova '16, (Karakol, Kyrgyzstan/Powell, OH) worked with Good Neighbors, an international humanitarian development organization, to implement an online fundraising event called "Charity Lottery". The fundraiser was organized collected money for the Kelechek Rehabilitation Center, which was opened in 2019 and provides social and psychological support for children with disabilities in rural areas of Kyrgyzstan. The event gained support from local and international businesses including Coca-Cola Kyrgyzstan, Kulikovskyi (a local bakery), Kirbi (a local chip brand), and the Kettik Tourism Company. Additionally, FLEX alumni City and University representatives supported the event by selling Christmas cards and cookies online through their social media pages. The event was successful and with the funds, the center purchased special equipment for its massage and game rooms.
FLEX alumni are helping to create a more-inclusive environment in Kyrgyzstan. Projects like these highlight that every person can make a difference and promote access and equality. Through these events, alumni made a difference in the lives of their neighbors.
Written by Kamila Churukova '16, (Karakol, Kyrgyzstan/Powell, OH)