Project Organizer: Nurgul Irisova '13 Event Location: Kadamjai, Osh, Bishkek and nearby villages $252 in FLEX Alumni GYSD Matching Grant Funding $345 cost share from: School #17, the U.S. Embassy in Kyrgyzstan, FLEX alumni, Peace Corps volunteers
From April 4-23, Nurgul Irisova '13 organized two projects for students from Osh, Batken, Talas, and Chui regions.The first project entitled 'In Unity Is Our Strength' took place on April 14.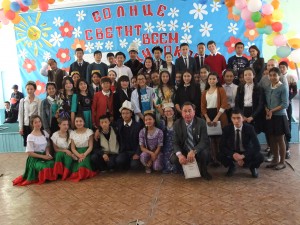 Six years after violent ethnic clashes in southern Kyrgyzstan that resulted in the death of hundreds of people, the situation in the border regions remains tense. To bring communities together, break stereotypes and promote
peace and reconciliation Nurgul Irisova '13, Nazgul Irisova '11 and Venera Imailova '14 conducted a festival of diversity at the Kadamjai School #17. The school provided free venue and equipment, national costumes, and drinks for the festival.
Prior to the event 100 high school students were divided into groups and assigned to do research on a specific ethnic group living in the region – Kyrgyz, Uzbek, Tajik, Russian, or Tatar. The participants then prepared presentations about culture and traditions of these ethnic groups and presented them in front of 1000 school peers and parents, alongside traditional songs and dances. The concert was followed by an intercultural feast during which tasty traditional meals cooked by the participants and their parents were offered to visitors. The festival had a big impact on the students. 'Afterwards many participants told me that the festival helped them to understand each other's traditions. They noted that despite all the differences, many of their core values were the same,' says Nurgul.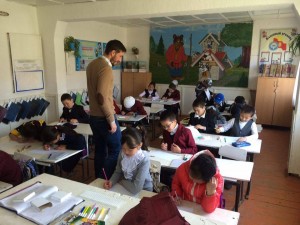 The aim of the second project 'Clean Water, Clean Hands – Guarantee of Health' was to raise awareness about the importance of clean water, sanitation, and hygiene. Together with 12 volunteers, the FLEX alumna implemented a series of trainings for 400 students in ten schools and an orphanage in four regions of Kyrgyzstan. During these trainings, she held water safety experiments and showed educational videos. Besides the trainings, organized held a drawing competition among primary and middle school students and an essay competition among high school students highlighting the importance of clean water.  The winners of both competitions were awarded certificates, sweet treats, and books, provided by the U.S. Embassy.