Project Organizer: Valentina Khomenko '11 Event Location: Kirgshelk Village and Bishkek, Kyrgyzstan $198 in FLEX Alumni GYSD Matching Grant Funding $300 through anonymous donation in memory of Eva Jacobs. $600 cost share from: the MoveGreen NGO, seamstress Nadira Alapaeva, website developer Zinaida Aveltsova, and entrepreneur Ali Rafiei  
In April Valentina Khomenko '11 joined forces with six FLEX alumni and six other volunteers to launch the project Eco Life with a goal to provide environmental education to children from orphanages and reduce the usage of plastic bags. On April 15-16, the volunteers conducted fun environmental trainings for 60 children in three orphanages in Kirgshelk and Bishkek. During the trainings children and the organizers discussed global ecological issues and ways to protect nature.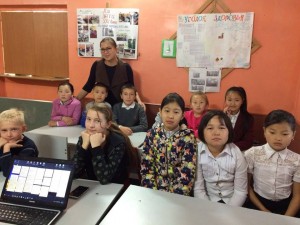 The second stage of the project was the production of 500 environmentally-friendly eco-bags with an aim to raise money for the Eco Caravan summer camp, an annual camp for 20-30 children from orphanages focuses on sustainable development and ecological education.  The bags which were distributed in shopping malls of Bishkek had a hashtag #noPlasticBags. Some of the eco-bags were given in exchange for plastic bags.
The FLEX alumna is currently developing a project website, which will help attract more interest to the Eco Caravan summer camp.