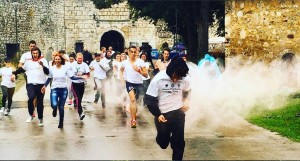 Not even the rain could stop the alumni, runners, and volunteers of the Breast Cancer Color Run on October 10 in Nis, Serbia. FLEX alumni Isidora Stankovic '15, Dunja Cekic '15 and Teodora Milivojevic '15 organized the first-ever charity color run race in the Western Balkans – Trk u Boji: Pobeđuj humano! The goal of the event was to raise awareness and proceeds, for the fight against breast cancer, in recognition of October, Breast Cancer Awareness Month.  At the race 100 runners and volunteers raced in the rain, covered in puffs of powdered colors, fundraising over $150 for the Oncology Ward of the Clinical Center in Nis and the patients suffering from breast cancer.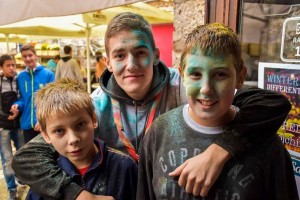 The event included massive media coverage with many national, regional, and local online news portals announcing it and reporting on it. Four local TV stations conducted 'morning show' interviews with the alumni organizers and invited them to speak about the event and promote the FLEX program. FLEX alumni in Serbia will hold a Color Run Vol. 2 in the spring of 2016.
Outside of the Breast Cancer Color Run, a team of alumni organized series of health and wellness debates about breast cancer and healthy living for 50 high school students, also in recognition of Breast Cancer Awareness Month.