Per Aspera Ad Astra – Through Hardships to the Stars
Aizhan Tagaeva '11 (Bishkek, Kyrgyzstan)
Event Location:  Bishkek, Kyrgyzstan
$1174 in FLEX Alumni Grant Program Funding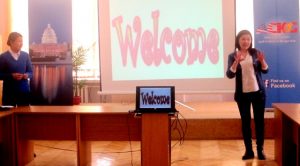 Summary:  FLEX alumni organized weekly debate club meetings at the American Corner in Bishkek in March and April 2013.  Alumni taught the 100 participants the basics of debating, offered them opportunities to use the debate skills, and presented participants with available educational, internship and exchange opportunities. Participants developed their critical thinking skills.
Currently, debate teams, which were formed during the club, are preparing to participate in a debate tournament at on December 21-22 at the American University of Central Asia. The tournament will focus on social issues in Kyrgyzstan with the aim of urging participants to critically think about the projects and develop action plans to solve social issues.
As a result of this project, many of the club participants have applied for various exchange and educational programs that they heard about during the classes.
More information about this event can be found here.