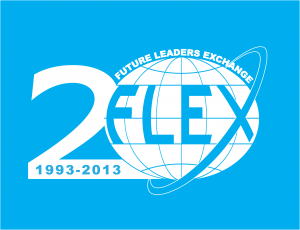 The FLEX program is pleased to announce the winners of the FLEX 20th Anniversary competitions, the Share Your FLEX Story and $20 Challenge.  FLEX students, alumni, host family members, and placement organization representatives were among those invited to submit their reflections on the impact the FLEX program has had on their lives.  FLEX alumni also had the opportunity to organize projects with a budget of $20, to highlight 20 years of the exchange with community projects throughout Eurasia that show just how much good people can do with a little.
Please join us in congratulating the winners!
Share Your FLEX Story Essay Contest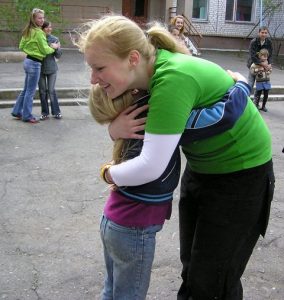 1st Place  Iryna Lysenko '03 of Mykolaiv, Ukraine.  In Iryna's essay entitled "Three Lessons Learned From Volunteering," she shares the impact volunteerism has had on her personal and professional development.  After taking part in community service projects in Fruitland, ID on the FLEX program she dedicated her life to service and discovered personal passions though it. Read more here.
2nd Place  Jodi Meek, FLEX Host Mother and Local Coordinator.  Jodi shares her story of hosting a FLEX student from Ukraine, which had profoundly influenced her family and her decision to work with exchange students from across the globe.  Jodi's essay highlights how FLEX is not a one-way exchange and how host communities are equally impacted by exchange students. Read more here.
3rd Place  Gulnoza Mansur '12 of Astana, Kazakhstan.  Gulnoza takes readers though the trials she faced in her youth and the life-changing effect her exchange year, the Better Understanding for a Better World conference, and Civic Education Week had on her personal development.  As a result, today she is dedicated to "…improve(ing) relations across cultures and religions and build(ing) a lasting peace." Read more here.

Share Your FLEX Story Video Contest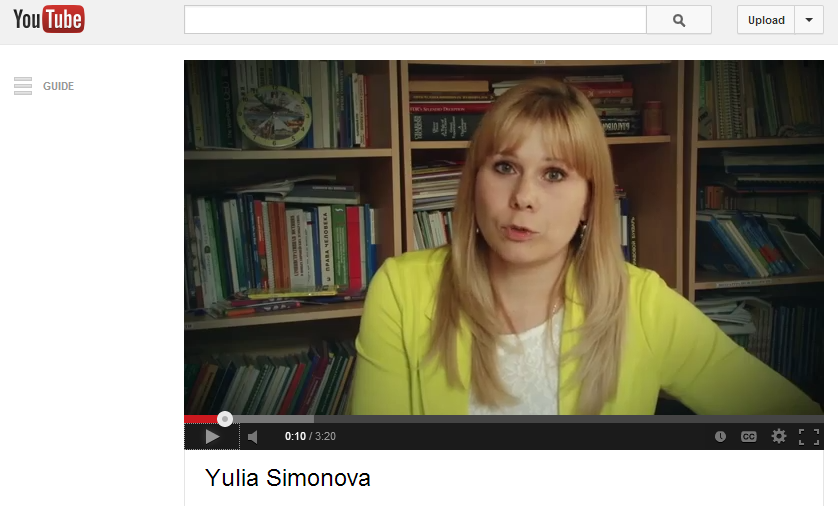 1st Place  Yuliya Simonova '02 of Moscow, Russia.
Yuliya's video highlights the confidence and independence she gained through FLEX participation.  Yuliya struggled in Russia as a young person in a wheelchair, and her experience in the U.S. defined her belief that people with disabilities should have the same rights and possibilities as others.  Yuliya now works as Inclusive Education Project Manager at the Russian Disability NGO "Perspectiva." Read more here.

Share Your FLEX Story Audio Contest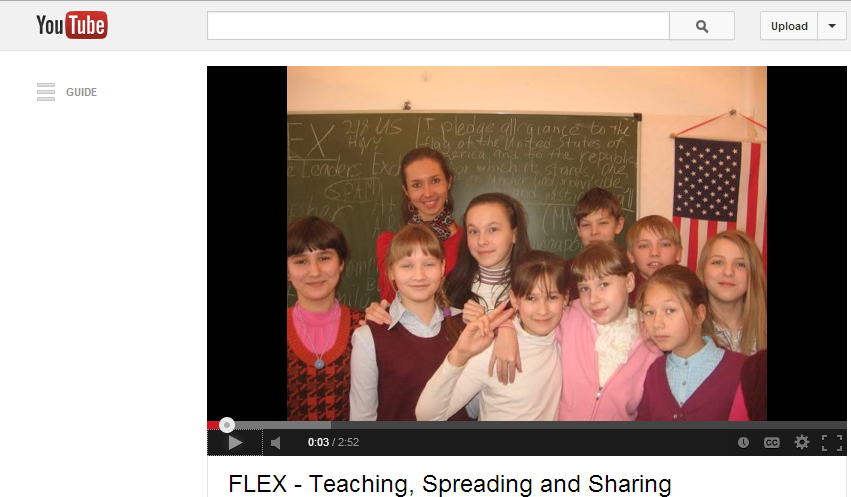 1st Place  Natalya Dolgoborodova '06 of Moscow, Russia.
Natalya uses an audio recording to speak about the opportunities she pursued in the U.S. to learn more about her life-long passion for teaching and education.  Natalya, an active FLEX alumna in Moscow, Russia, also speaks about her participation in alumni projects and with the FLEX recruitment process. Read more here.
$20 Challenge Competition: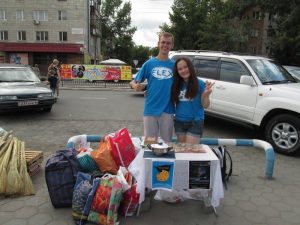 1st Place Vladimir Krekhmayer '13 of Pavlodar, Kazakhstan.  Vladimir used the power of online media to promote his project, "Make the Children Smile," a fundraising event and clothing drive for children at the Pavlodar Orphanage.  Four alumni collected donations over a two-day period and attracted people with cookies and American music. Read more here.
2nd Place  Nargiza Kanybek kyzy '13 of Bishkek, Kyrgyzstan.  Alumni and volunteers from Bishkek traveled to villages around the cities of Aral and Talas, Kyrgyzstan to promote the FLEX program and prepare students to take part in testing.  Following English language lessons and practice essay writing and interviews, organizers taught the children the basics of hip hop and the rules of basketball. Read more here.
3rd Place Nilufarkhon Akiljonova '13 of Khujand, Tajikistan. Nilufarkhon reached out to over 30 youth by organizing a training session on environmental issues and ways to protect the environment in your own home and community.  She is dedicated to teaching youth ways of interacting with nature to effectively solve environmental problems. Read more here.
The first-place winners of these events will have the opportunity to attend one of the FLEX 20th Anniversary events on November 2-3, 2013 in Moscow, Russia; Kyiv, Ukraine; Tbilisi, Georgia; and Almaty, Kazakhstan with special guests Senator Bill Bradley and American Councils President Dr. Dan Davidson. The runners-up will receive FLEX merchandise.
Learn more about anniversary event opportunities and how to order FLEX merchandise by contacting the FLEX Alumni office at flex20event@gmail.com.