By Rugile Kriksciunaite '17 (Vilnius, Lithuania / Fort Collins, CO)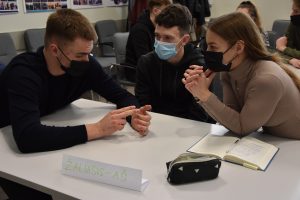 On March 30, City Representative Neda Miltinyte '20 (Siauliai, Lithuania / Nampa, ID) organized the "Green Hack for Europe" at the Siauliai Business Incubator. Green Hack is an ongoing, international hackathon tackling sustainable development and future challenges, which began in Stockholm in October 2011. Since then, there have been different events organized around Europe, including in Lithuania.  
Neda's main goal of "Green Hack for Europe" was to engage students of Siauliai city in a creative hackathon, where participants create teams and search for solutions to ecological problems such as food waste and air pollution.  
Students were active, engaged, and participated in a simulation, pretending that they were proposing solutions in a town hall meeting. Not only did the students present their ideas, but others also asked challenging questions. The goal was to boost students' creativity and teach them about the importance of sustainable living. Some of the ideas presented were a food–waste–collecting robot, zero-waste smart shops, and smart buses that can stop anywhere.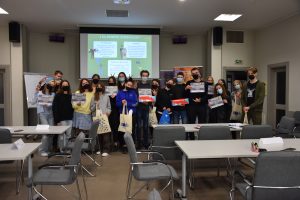 Moreover, the participants deepened their knowledge of green technology with a lecture and exhibition on "Packaging DNA" by representatives of the "Green Dot," which is the first and largest licensed waste management organization in Lithuania. Employees introduced students to green innovations – products from recycled waste – and at the same time showed more sustainable solutions for the packaging of products, creating the DNA for future packaging.  
They also showed participants how creating an efficient system for the management of packaging waste and recycling of secondary raw materials minimizes environmental pollution. Participants learned how young people can build a greener and more sustainable future for Europe. 
"During my exchange, especially during Civic Education Week, I learned about the importance of grassroots projects that are a start to bigger changes," Neda said. "My goal was for these students to unleash their creativity while staying realistic and to challenge them to create ideas that could be adapted to promote sustainable living. Thus, I hope that the participants will be encouraged to take their generated sustainable project ideas further."