On June 27, twelve alumni from different FLEX generations gathered in Vilnius for two very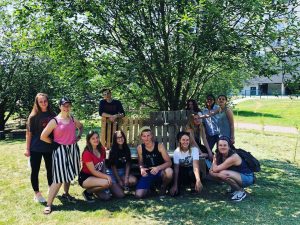 important reasons. First of all, it was the first time the alumni from all over Lithuania could reunite for a fun and meaningful in-person event after months of quarantine in Lithuania. Attendees practiced local guidelines for social distancing and were happy to finally be together in person. Second, the alumni community recently learned that there is a new community garden in Pilaite, Vilnius, which needed some extra help!  The alumni were ready to help right away and it became a perfect community service activity for the group. This event was also a great way to welcome the newly returned alumni to the community.
The community garden Ideju Lysve (Ideas' Bed) was established a year ago by Laura Petruskeviciut, a local architect, who implemented a similar project in Glasgow, Scotland. The Ideju Lysve is meant to bring together neighbors of different ages and interests in order to create something meaningful, yet practical. This year the community garden will have its first season and first harvest, thus, everything is still very new for the neighbors. Nevertheless, the organizers are very happy that the garden has already attracted many volunteers and families to participate in its first season.
The twelve alumni who came to volunteer were keen to help. Together with other volunteers, they used wooden pallets and their creativity to build a table, relaxation zone, and a furniture set for children to play on, named "A Mud Kitchen for Children". They also watered the plants and seeded radishes. Everyone involved had a great time and learned about gardening and construction. As a result of their hard work, Ideju Lysve is cozier and has even more activities to offer for its community members.  On top of that, alumni have a new partner to work with as the discussion about an American themed harvest party has already started!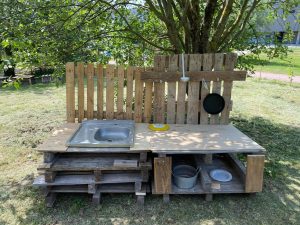 Written by Aida Mazyte '17 (Vilnius, Lithuania/Pueblo, CO)