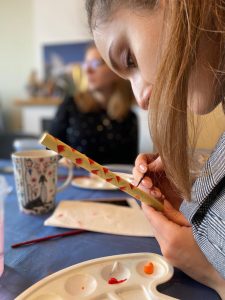 FLEX alumni in Lithuania collaborated with the Rugutė Foundation in February, for a meaningful and creative volunteering activity – painting pinwheels!
The Rugutė Foundation has become a dear friend of the FLEX alumni community, with alumni often holding events with the foundation and volunteering there. The foundation, based in Vilnius, raises funds to buy medication for children with cancer and pay for their medical procedures.
Every February the foundation dedicates the weekends to pinwheel painting workshops – an opportunity for volunteers to express their creativity and be part of a calming art therapy session.  The pinwheels are then sold at the traditional St. Casimir's Fair, a Lithuanian ethnocultural fair that happens at the beginning of every March, organized to raise funds for the foundation.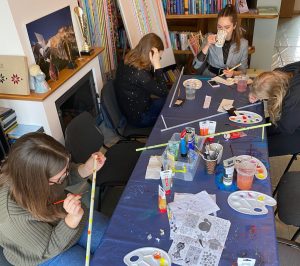 The pinwheels painting process is rather simple. Each volunteer chooses a pre-made wooden pinwheel stick of a certain color and then paints a design on it. Although this may sound simple, it can take up to 3 hours to finish one piece. Then, a plastic wheel is affixed on the stick and the artwork is ready for the fair!  Since the fair coincided with Lithuania's Independence Day, pinwheels were symbolically painted in the colors of the flag of Lithuania – yellow, green, and red.
Together, the alumni painted eight pinwheels and that the activity was a great opportunity to take a break from their daily routine, talk to other alumni and get to know them better, while also producing little works of art that they were proud of. There is no doubt that these pinwheels will find a place in someone's heart.
Written by Aida Mazyte '17 (Vilnius, Lithuania/Pueblo, CO)