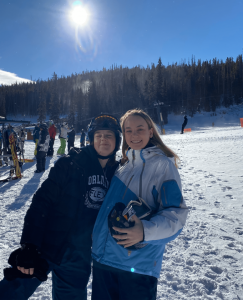 In 2016, Rugile Kriksciunaite '17 (Vilnius, Lithuania/Fort Collins, CO) was one of the first FLEX finalists from Lithuania. During her exchange year, she was hosted by the Marin family, who took care of her as if she was one of their own daughters. As Rugile's FLEX year ended, Rugile and the Marins had grown very close, and they promised to visit her in Lithuania.
In 2018, the Marin family, Melanie, Erik, Morgan, and Maddie, fulfilled their promise and travelled to Lithuania to visit Rugile and meet her family. Both of Rugile's families had a lot of fun getting to know each other and seeing the country. Together they travelled all over Lithuania and even visited Riga, Latvia.
During the trip, the two families became very close, with both mothers saying they were like sisters.  The Marins greatly enjoyed spending time with and getting to know Rugile's sister, Saule. Saule wanted to follow in Rugile's footsteps and become a FLEXer to live in the United States, experience American culture, and attend a U.S. high school. By the end of the trip, the Marin family offered to host Saule if she were to also become a FLEX finalist.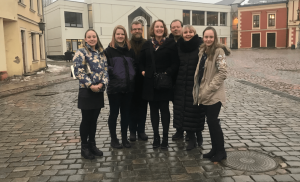 In 2019, Saule Kriksciunaite '20 (Vilnius, Lithuania/Fort Collins, CO) was named as a FLEX finalist and placed with the Marin family in Colorado for the 2019-2020 FLEX year. Her dream of becoming a FLEXer came true, and she was able to spend a magnificent year with the Marins. Rugile even surprised her and came to visit them all in the U.S. during Saule's exchange year.
Today, both families share a very special bond and talk often. They plan to see each other in person once they can and travel restrictions allow for it. Rugile and Saule truly brought these two families from different sides of the world together to create one big FLEX family.