By Nataliia Kalantayenko '19 (Konotop, Ukraine/ Bakersfield, California)
The Volunteer Platform is the first online resource for finding volunteer opportunities throughout Ukraine. The platform connects volunteers, philanthropists, community organizations, and non-governmental organizations to work together to improve their communities.
One of the founders of this platform is Olena Vuzka '19 (Odesa, Ukraine/ Plattsmouth, NE.) In the following interview, she tells the story of the creation of the platform, as well as her ideas and plans for the future.
How did you come up with this idea? How did it all start?
When a group of ambitious young people led by Hanna Bondarenko '12 (Odesa, Ukraine/ Jamestown, CA) created the Ukrainian Volunteer Service in 2017, we wanted volunteering to be a more popular topic of discussion, so more people will talk about it, more mass media will discuss it and as a result more people will join volunteering. Before we set out to develop a culture of volunteering in Ukraine, we were deeply affected by the fact that there are a lot of negative stereotypes around volunteering. For example, a lot of people think that volunteering is only about helping the military. Some people also believe that volunteers get paid for their activities. Another popular stereotype is that volunteering is a waste of time. At that time, people were not familiar with diverse areas of volunteering. For the past four years of the activity of the Ukrainian Volunteer Service, we managed to make a change. People began to speak up about the importance of volunteering in Ukraine. Despite the fact you could hear about volunteering everywhere, it was extremely difficult to understand how it works, especially for beginners in this field. The main question was which resources to use in order to find volunteer opportunities: social networks, volunteer chats or websites of NGOs.
Therefore, we had a goal: to gather all the volunteer opportunities in one place, thus to ensure that people know where to apply, if they want to take the first steps. In March 2021, we had such an opportunity. Together with our partners, the United Nations Children's Fund (UNICEF) and the Ministry of Youth and Sports of Ukraine, we launched the Volunteer Platform, which has become a resource that gathers all the opportunities for volunteering in Ukraine. On the Platform, NGOs can find volunteers for their projects, while volunteers can engage in the activities they are interested in.
There were about 14 volunteer platforms that were created [before this one], but ceased to exist. Everyone we told about implementing this idea said, "Oh, great, you're the fifteenth platform."
Nevertheless, we created a platform that continues to work, because it is not just an online resource that is visited by volunteers and NGOs. Volunteer Platform is also a team of amazing people who constantly develop it and who themselves join the available volunteer opportunities. Therefore, we want to show that volunteering is about people who create opportunities around themselves.
In your opinion, what is the success story of the Volunteer Platform?
First of all, we did not just create an online resource to be the first volunteer platform in Ukraine, we created it for the benefit of our community. It was important for us to come up with something that people were interested in, and a common issue we observed when teaching volunteer management to the NGOs and volunteers, was that they didn't have a place to connect with each other. Thus, the Volunteer Platform became a space to unite these groups.
When did you see the first results of the platform?
One of the advantages of an online platform is that you can easily collect and examine analytics. Therefore, if we talk about our results, after the first month we had very positive ones. The numbers increased over time, and in eight months, more than 400 opportunities were added to the platform. [As of November 2021], the number of people who have registered for volunteer opportunities through the platform is more than 13,500. Moreover, we launched an internship program, where ten wonderful interns will soon graduate with new skills and experiences. We also have FLEX alumni in our internship program, and I hope we will have even more in the next recruitment campaign.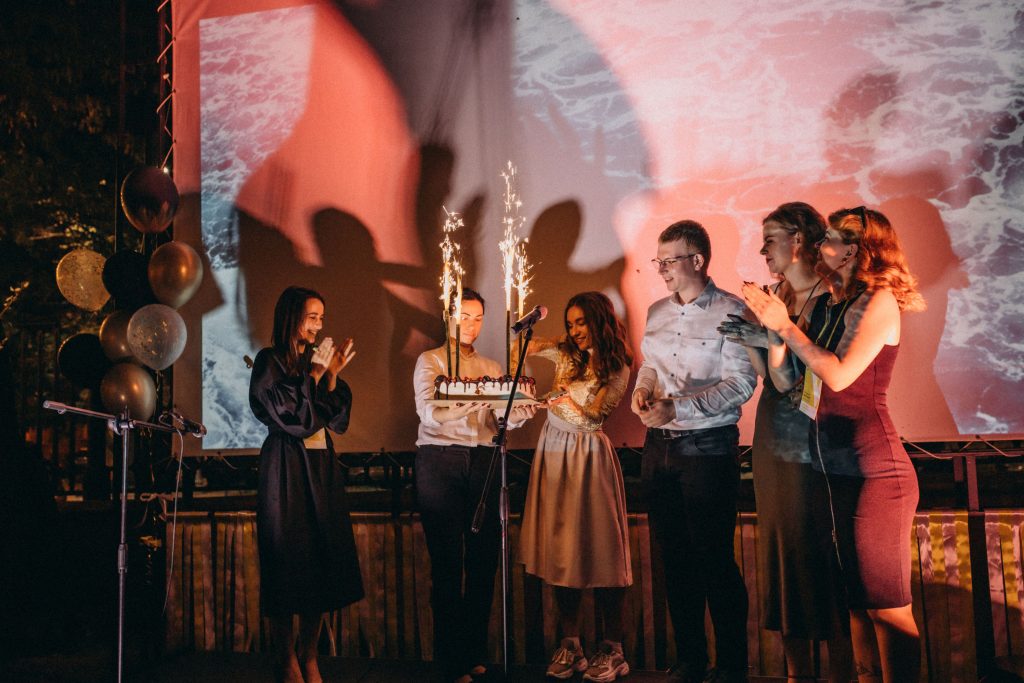 All these numbers and statistics sound great, but there was a moment when I felt the real results. That happened when I was invited to the School of Volunteering – curriculum for those who want to find their way in volunteering and become part of their community of change – to talk about the Ukrainian Volunteer Service and the Volunteer Platform. I took the chance to encourage participants to join the platform. Then, I got a reply from a person who said that, thanks to the platform, they started to volunteer in the Human Resources department in the organization Open Cells – non-governmental organization which goal is to reduce animal suffering through systemic changes in society, business and legislation. In that moment, I understood how influential our project is, and it is not about the numbers, rather about the moments when you hear a personal story; how the platform connected a person with the organization that they wanted to join. Such stories are really inspiring and show how this project works and fulfills its purpose.
Let's talk more about FLEX. How did your stay in the U.S. shape your life?
Volunteering in the U.S. is perceived as something normal and people volunteer a lot there. In Ukraine, this tendency is just starting to develop. In the U.S., what impressed me the most, is that volunteer management is highly developed: they plan actions and monitor the results of volunteers and their achievements.
One of the most valuable experiences that shaped my life was living in such a diverse environment, where I could communicate with different people with different perspectives.
What are your plans for the future regarding the Volunteer Platform? What would you like to see on the platform?
Needless to say, it is an exciting part when you publish an opportunity, make a presentation to organizations, or involve them in sharing information, yet we don't plan to stop here. My personal goal is to make the Volunteer Platform be associated with volunteers and volunteering itself. For this reason, in the near future we will talk a lot about the Volunteer Platform and we will make many presentations in different cities in order to meet potential volunteers. Additionally, we will launch our Late Night Show on the First Youth Channel, a YouTube Channel that shares the news of youth politics and activism for youth workers and all those who are interested in youth policy and work in Ukraine. In the show, we interview leaders from different non-governmental organizations, ruin stereotypes about volunteering and discuss the news of the development of volunteering culture in Ukraine. You can watch our latest Late-Night Show video, which was launched on December 5, International Volunteer Day.
Through these videos, we aim to show their examples and real stories in order to talk about volunteers who change Ukraine in small steps and prove that volunteering is possible for everyone.