This September, Lejla Sabotic '20 (Podgorica, Montenegro/Texarkana, TX) and Amir Cuturic '20 (Podgorica, Montenegro/Sandy Spring, MD), organized a virtual "Walking Warriors" event in Podgorica. A "Walking Warriors" event is a walkathon that raises awareness and/or funds to combat a health-related issue. 
Lejla and Amir dedicated their walkathon to Suicide Prevention Awareness Month. The event lasted ten days starting September 20. Participants posted to their Instagram stories videos of them walking and tagged the post with #walkingwarriors. These posts were then shared to a wider audience by the FLEX Alumni Montenegro Instagram page, reaching nearly 500 social media users. On September 27, 11 alumni and volunteers got together in Podgorica to walk together for everyone who had been a victim of suicide. Afterwards, the group compiled a list of organizations that individuals can contact for support when struggling with mental health concerns. Through this project, Lejla and Amir sent a message to their local community that people going through this are not alone and there are others there to help them.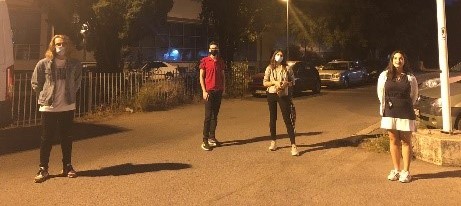 Lejla was motivated to organize this project because during her time in U.S., she participated in a similar event with her host family. She says, "I recognize the importance of mental health and the numbers of lives taken by suicide. I wanted to use this event to let people know that someone is there for them." 
This was the second year this project was implemented in Montenegro, but it was the first time participants were able get together in person due to the COVID-19 pandemic. Lejla and Amir hope to continue this project in the future and get more people involved so they can create an even larger impact. 
Written by Dalida Hodzic '19 (Bar, Montenegro/Webb City, MO)