Since the COVID-19 outbreak, many of us have had to set aside busy lifestyles and postpone our plans, including abiding by stay at home orders and social distancing requirements.  These changes do not have to stop us from maintaining our relationships. In fact, it is quite the opposite. During these trying times support from friends and family is crucial. Therefore, Alumni Coordinator Zerina Bosovic '16 (Podgorica, Montenegro/Wichita Falls, TX) has set a goal for herself to  tighten and renew long lasting friendships within the FLEX alumni community in Montenegro during these difficult times.
At the beginning of April, Zerina sent out a call to Montenegro alumni to take part in virtual reunions. She was thrilled at the positive response she received and begun planning them. Throughout the month of April, Zerina set virtual calls by using Google Meet for four different FLEX Alumni generations with the goal of using the extra time alumni had at home to strengthen their ties within the community.
"After graduating from high school, many alumni from my generation left Montenegro to study abroad, which made some of us lose contact.'' says Nevena Djurickovic '14 (Podgorica, Montenegro/Oskaloosa, IA). She continues, "This reunion was a perfect opportunity for us to hear more about each other's lives over the past 4 to 5 years, to reminisce about wonderful memories and make plans for in-person reunions once restrictions are lifted back in Montenegro."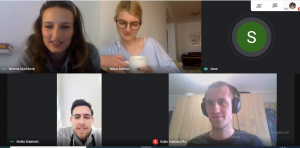 Alumni have been very excited about reuniting and sharing updates about their lives with each other. Marko Delic '12 (Niksic, Montenegro/Ann Arbor, MI), Director of Admissions at Kellogg Community College in Battle Creek, Michigan shared; "It was a pleasure to reconnect with some of the best people I have ever met. It did not matter that it had been almost 10 years since we spent valuable time together, because we picked up right where we left off." This was a unique opportunity for Marko to see his old friends, as he visits Montenegro only once or twice a year.  Marko adds, "Getting to know where everyone was and the commitment they showed towards leadership and growth within their respective communities was inspiring. The accomplishments my fellow alumni shared made me happy and much more grateful for the opportunity to be an alum of the program.''
Zerina hopes that reunions, either virtual or in person, will become a tradition for the Montenegro alumni community and that it will inspire and remind all alumni of the wonderful perks of being part of the FLEX alumni community.
Written by Zerina Bosovic '16 (Podgorica, Montenegro/Wichita Falls, TX)