From her childhood home in the village of Kerben in central Kyrgyzstan, Aigul Saparova '18 (Kerben, Kyrgyzstan/Visalia, CA) helps clients from around the world solve their business problems with software solutions. When you learn that her family's home doesn't have running water and the internet signal in the mountains of western Kyrgyzstan has traditionally been weak, it sounds like an improbable situation.
But Aigul has been surmounting challenges since an early age. The year before she took part in the FLEX exchange program, she spent a most of her free time helping the everyday running of the house.  Aigul's jump from doing manual chores around the house to becoming, in her words, "a young professional" with one of the biggest IT companies in Kyrgyzstan is a remarkable one, made possible by her personal motivation to succeed and facilitated by participation in the FLEX program.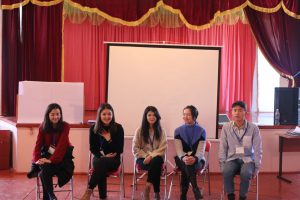 Aigul is one of six girls in a middle-class Kyrgyz family. Her father is an electrical engineer and mother is a pharmacist, and after moving around the country, the family settled in Kerben, which is tucked in a remote valley located several hours away from the provincial capital of Jalalabad. The town of 14,000 was a stop centuries ago for caravans traveling back and forth on the Silk Road. Tradition to this day runs deep in its residents, like a preference for boys at birth. Aigul herself always felt pressure to do better than boys in school and activities. "I needed to prove that my parents didn't need boys," she explains.
One of Aigul's older sisters paved the way for her by participating in FLEX in 2014. But her sister's exchange experience didn't make Aigul a big fan of FLEX. You see, her sister's departure meant that more work at home fell to Aigul, including taking care of her two younger sisters.
But a hunger to learn English motivated Aigul. She befriended a Peace Corps volunteer at her school and started attending his English Club. She helped the Peace Corps volunteer organize a region-wide week-long training for English language teachers. Aigul found herself waking up early to improve her English. From 5-7 am she logged onto the family's unreliable Wi-Fi when there was less traffic and watched English language instructional videos on YouTube to improve her grammar. "It was English for beginners," she remembers. "Present simple, present continuous…" She finished in time to do her morning chores.
She applied to FLEX before her junior year in high school and was placed in Visalia, California, in a host family almost directly opposite to her family, with five boys and one girl.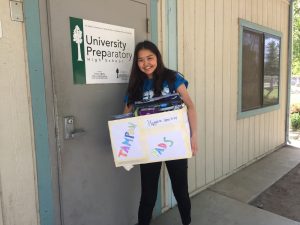 Freed up from daily chores in the U.S. — "everybody cleaned up after themselves," Aigul says — Aigul threw herself into volunteer work and teaching Americans about Kyrgyzstan. She collected clothes and delivered them to a homeless shelter; organized activities for Mental Health Awareness Week in connection with Global Youth Service Day; and served food to the poor and those in need at the Visalia Rescue Mission. She ended up doing 150 hours of volunteer work, far more than the 30 hours requirement set by her placement organization.  In addition, by doing 50 presentations about her home country of Kyrgyzstan to classes in Visalia schools, she put her small country in Central Asia on the map for Visalia's students. That included teaching her classmates how to do Kyrgyz-style dances. Dressed in traditional dress, she taught her fellow high school students how to shimmy their shoulders and then led 80 of them in a flash mob at school to celebrate International Education Week.
Aigul continued to engage in volunteer work upon her return to Kyrgyzstan.
In her sophomore year at the American University of Central Asia (AUCA), where she is a recipient of a prestigious U.S.-Central Asia Education Foundation (U.S.-CAEF) scholarship, she raised money for and ran the Village Girl program, which supported girls from the rural province of Naryn by providing trainings on leadership, self-esteem, and communication. A key point was including the girls' parents and providing them with training on how to foster better communication between parents and their daughters. "Families tend not to support their daughters," Aigul said. "The girls were happy we organized the parents for a training; it helped to break down walls."
Aigul, now 20 and a Business Administration major at AUCA, herself knows the power of such interventions. "I guess my life wouldn't be the same if I were not a FLEXer. I might already be married." And she may not be leading projects for her company. Her strong knowledge of English has been key to her professional rise from intern to project manager at Maddevs, one of Kyrgyzstan's biggest IT companies.
With experience in the work world and a better understanding of IT, Aigul has set her sights on applying for a FLEX alumni grant to continue working with parents by equipping them with skills and tools to communicate with their children, especially their daughters.