While in the United States, FLEX students experience life changing events during their cultural exchange, but for Firdavs Temirov '11 (Khujand, Tajikistan/Plentywood, MT) it meant even more. He was gifted a new prosthetic leg, which was emblazoned with stars and stripes of the American flag, by a member of his host community.
Firdavs was hosted by Jor and Del Kranzler, he was the fifth exchange student that the Kranzler hosted from Tajikistan. Jor and Del always hosted students from Tajikistan.  Firdavs created a strong relationship with members of his host community through his charismatic personality and involvement in community activities. At his host high school, he took part in everything he possibly could, from horse back riding to bowling. His hard work at school and dedication to outdoor activities became an inspiration and eye-opening experience for community members.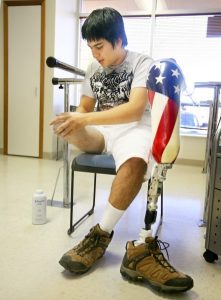 In an interview with the Montana Standard during his exchange year, Firdavs shared that he was born with a birth defect that caused his right leg to not fully form. He was often embarrassed by this, saying "When I was a kid, I would try to hide my leg." Prior to coming to the U.S. his leg was amputated above the knee and he was given an artificial leg to use. But the prosthetic leg was poorly fitted and would often fall out while running or playing sports.
On his 17th birthday, Firdavs was gifted a new prosthetic leg by Jim Middleton, a local prosthetist in Montana, who after noticing the condition of the original prosthetic leg, decided to work on getting him a new one. Jim applied for a grant through the Barr Foundation, a nonprofit that assists amputees, to get Firdavs a more sophisticated hydraulic knee joint. After winning the grant from the foundation, Jim went on to spend over 20 hours fabricating and fitting the new artificial limb, which was decaled with the American flag. Firdavs was overjoyed with his new leg and the American flag on it.
This gesture truly changed Firdavs life, and he still uses the leg gifted to him today, nearly a decade later. Firdavs' new leg is a representation of hope that we can change the world for a better place through kindness and connections. It shows how people coming from different backgrounds share the same language – the language of love.
Written by Behruz Gharibov '18 (Dushanbe, Tajikistan/Albia, IA)