By Surush Ruhulov '19 (Panjakent, Tajikistan / South Portland, ME) 
Over the last few months, FLEX alumni in Tajikistan organized community events to promote study abroad programs and in-country education to those in rural areas of the country.  
Introducing Study Abroad 
A group of University of Central Asia (UCA) students, led by Rezabegim Makhsudshoevna Sholamova '18 (Porshinev, Tajikistan / Lincoln, NE), organized a study abroad presentation on December 11.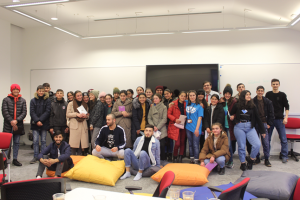 Thirty-two high school students were brought from rural areas of Gorno-Badakhshan Autonomous Oblast, a region of the country bordering Afghanistan and China, to the UCA-Khorog campus for a tour and presentations about FLEX, TechGirl, UCA, and many other opportunities to study abroad. The event was attended by alumni of each program, who in detail explained the programs' goals and how to be a successful candidate.  
John Miglietta, a speaker from the U.S., explained the admission process for U.S. universities. Each student received a notebook as a gift from Miglietta.  
The event aimed to engage students from rural areas, many of whom shared that they did not know, or did not have much information, about the mentioned programs. Overall, they were inspired and said they are willing to share the information with others in their communities.  
Teaching English and Math in Isolated Regions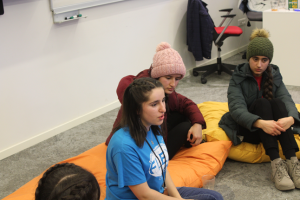 As an additional effort to connect with rural areas in Tajikistan, Rezabegim and her team have been conducting community service projects since October in isolated villages of Badakhshan. The goal is to provide quality math and English courses and to spread awareness about programs like FLEX, TechGirl, and others.  
In December, Rezabegim and her team, all third-year students studying economics at UCA-Khorog, conducted five in-person lessons in three schools for 50 students. Rezabegim herself graduated from a high school in the region; this encouraged her to influence the lives of high school students in this area. She and her team will continue to teach classes until the end of the academic year.