For many people outside of the U.S. they have an idea of what Thanksgiving is like, but most of us don't actually have the opportunity to celebrate this holiday. Last year I had the unique chance to celebrate Thanksgiving with my host family and friends during my FLEX year in Aberdeen, North Carolina.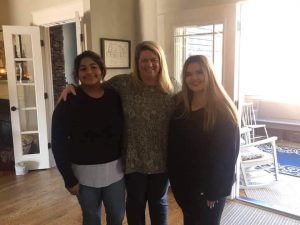 Our Thanksgiving was celebrated with family friends, so we renamed our Thanksgiving to "Friendsgiving". Preparations for "Friendsgiving" started the day before since cooking for 13 people takes a long time. On the morning of Thanksgiving, we got up early and headed to the "Blessing of the Hounds", which is an event to bless local hunting dogs before the Thanksgiving Day hunt. I've never heard of this tradition before, so it was something completely new for me. I saw a few friends from school there, as this tradition is very well known and people from all over North Carolina come to see the blessing. After the event we headed home, where we still had a lot of work to do. My host mother started preparing turkey while my host sister and I started baking cookies. I also prepared the Slovak dish, šúľance, to bring my own slice of the world to the table. Together with our guests we ate dinner and spent the rest of the day talking, playing board games and had a family movie night. The šúľance were a big hit and everyone fell in love with them, which made me really happy!
Thanksgiving is about spending time with people we care about. I'm so glad to say that this was the way I spent my Thanksgiving in the U.S. I really felt like a part of my host's family and I will remember that day forever.
Written by Emma Francanova ´20 (Presov, Slovakia/Aberdeen, NC)