By Marek Janiga '22 (Velicna, Slovakia / Sterling Heights, MI)
At the beginning of the war in Ukraine, many FLEX alumni were overwhelmed by the powerlessness they felt to help those affected. In the first week of the war, Filip Kyselica '20 (Zilina, Slovakia / Boise, ID) saw that his town received hundreds of refugees and noticed that the local refugee center, Camp Zilina, desperately needed volunteers. On March 3, Filip started volunteering there. With his knowledge of the Russian language, he communicated with the incoming Ukrainian refugees and helped support them.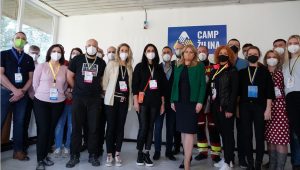 "During the first days of the war, when the help was not well organized yet, the roles were unclear, so I was doing everything from buying medications to registering incoming people," said Filip. Filip is now working in the camp as a Slovak language lecturer, where they provide intensive Slovak language courses for approximately 2,000 refugees who have decided to stay in the region. Since the war began, Filip has spent six months working with the Ukrainian refugee community in Slovakia. Camp Zilina alone has accommodated 3,100 refugees, of which 800 were accommodated long-term.
Filip also worked as a volunteer for the Red Cross at Camp Zilina after completing a first aid course. "My duty was to take care of severely ill people. We offered them first aid, called the ambulance, and supervised them," he explained. Filip often visited the refugee center in his free time to build relationships with the Ukrainians there and assist with their medical needs.
Filip's effort to help encouraged me to volunteer, too. In April 2022, I organized a benefit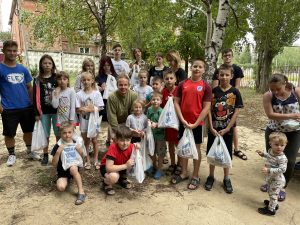 piano recital for Ukraine in my U.S. community in Sterling Heights. Around 80 people attended the concert in person, and 500 more watched it on YouTube. With approximately $3,000 raised at the show, I supported Caritas Slovakia, a local Slovak charity most active in Ukraine.
A month after I returned from the U.S., I volunteered in Ukraine. With the charity's support, I helped deliver humanitarian vans full of food, hygiene products, and medications to the cities of Dnipro and Kharkiv in Eastern Ukraine. While in Kharkiv, we distributed aid to the Saltivka neighborhood, about 25 minutes from the Russian border. In one day, we and around 60 other local volunteers provided essential needs to approximately 1,500 people in the city. Two weeks after returning, I decided to go back again and deliver another van of aid. Altogether, I spent more than two weeks in Ukraine, and we delivered three tons of aid that helped thousands of people.
The pain and destruction I saw in Ukraine made me even more convinced that we need to do our part to help those affected by the war. The people of Ukraine feel our help every day, and I have seen our service make a difference.