By Kristina Stierankova '20 (Hrachovo, Slovakia / Kuna, ID) 
It all began when my host organization in the U.S., The Council on International Educational Exchange (CIEE), requested I complete at least 20 hours of volunteering during my exchange.  
I started volunteering in Idaho by tutoring my exchange schoolmate from China on U.S. history. In teaching her, I realized that I, too, could remember much more from the class. It was also a nice way to spend my afternoon. She came to my house, we had some snacks, and then started studying. After that, I started tutoring another schoolmate from Thailand. This was also an opportunity to get to know each other better.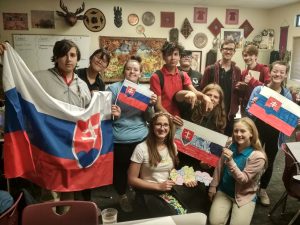 Then at the beginning of October, I organized a Slovak Club for IACS (Idaho Arts Charter School, my host school) students. That was one of my most favorite volunteering activities. Our first meeting consisted of an introduction to Slovak culture, fun quiz, making a flag, and eating yummy snacks that my teacher brought. American students were really thrilled to learn something about a new country, and that gave me the energy to repeat meetings and teach them more about my country.  
My host family helped me to find some additional volunteering activities as well. I worked with cameras at the local Seventh Day Adventist Church, helped with potlucks, and collected food for a food bank. We even stopped at a local library, and I helped those there to make Christmas decorations.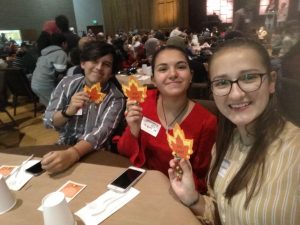 With my placement organization, I was able to volunteer at International Dinners, where I and other exchange students played with children, while their parents spent some nice time chatting to each other. We also volunteered at the International Thanksgiving Dinner, where we served food and helped to clean up afterwards. My favorite volunteering activity during Christmas was bellringing. We rang bells, sang songs, collected money for The Salvation Army, and it made for a true Christmas atmosphere.  
At school, I was a part of Key Club, a volunteering club. We sold popcorn and water at a festival, raked leaves in downtown Boise (capital of Idaho), and distributed Christmas gifts for children from school. 
What did I learn from volunteering in America? I learned that it is so important to help others that need it, even if it costs you your time and energy.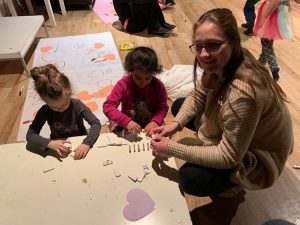 I spent 101 hours total volunteering, and I did not consider it a waste of my time. Reversely, every hour of volunteering gave me so much. I learned that by helping others we are helping ourselves as well. After helping, I had the feeling that spending time helping others is one of the best feelings I have ever experienced.  
"Remember that the happiest people are not those getting more, but those giving more." ― H. Jackson Brown Jr. 
What did volunteering in the U.S. mean to you?