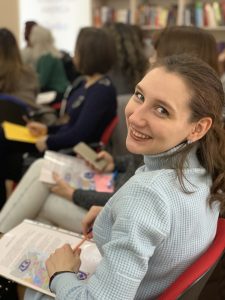 FLEX Alumni Coordinator Vadym Hladun '16 (Kharkiv, Ukraine/ Kalama, WA) held a first-of-its-kind event in Kharkiv city: the English Teacher Training on March 2. The English Teacher Training hosted 30 teachers who learned about unique approaches to teaching English and discuss with their peers effective teaching techniques.  Vadym noted that that "The idea behind the English Teacher Training was to encourage English Language Teachers to think outside of the box, go beyond their preconceptions of language teaching and think twice about society's paradigm of "English learning."'
The English Teacher Training was an international event with one Ukrainian speaker and two English-speaking Peace Corps volunteers as speakers. Vadym Hladun, FLEX Alumni Coordinator in Eastern Ukraine, discussed the obstacles that English language teachers may face and shared personal techniques he uses while working with students of different ages in his work as an English as a Second Language teacher for Dev-Pro.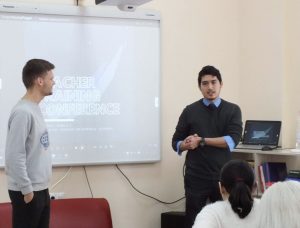 Gabriel Cortez, Peace Corps volunteer, explained the importance of implementing workshops and gave participants a step-by-step guide to facilitate the classroom planning process. She also introduced a new technique for encouraging children to read – Reading Circles. She explained how reading circles can be used in the classroom and how to make it fun.
Peace Corps volunteer Mackenzie DeMore broadened participants' minds about learning English through the exploration of real-world challenges and issues. Participants got to know how to use dynamic student-centered approaches through which students can acquire deeper language knowledge. The teachers were eager to attend the event and had nothing but excitement on their face throughout the training. "Teaching English can be quite difficult," said Vadym, "but nothing feels better than having satisfied students."
Written by Vadym Hladun '16