In celebration of the 25th Anniversary of the FLEX program, the FLEX Alumni Program in Moldova organized a TED-inspired event – FLEX TALKS on Tuesday, October 30, at the National Phylarmony "S. Lunchevici". Over 130 alumni, American Councils and U.S. Embassy representatives, and invited guests gathered in Chisinau for the celebration offering a reception with live music, a photo gallery, and a speaker series. Deputy Chief of Mission at the Embassy Chisinau, Martin McDowell, opened the event and was followed by inspirational speeches from five FLEX alumni:
Cristina Giza '13 (LaVista, Nebraska)
Alexei Ciuperca '98 (Layton, Utah)
Ana Indoitu '11 (Estacada, Oregon)
Catalina Turcanu '13 (Auburn, Maine)
Valeria Svart '07 (Manchester, New Hampshire)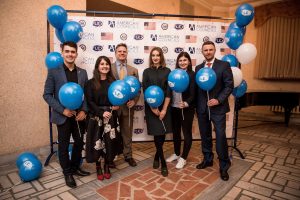 Speakers shared their FLEX stories and detailed how the program shaped their personalities while studying and living in the United States. As alumni, they used the skills and experience they gained to make a change back home. Today, they are five happy adults, successfully building their career and living life with a more broadened view of the world.
The hosts of the event, Victoria Lungu '13 and Eduard Ciobanu '17, led a quiz about the FLEX program, where guests had the chance to win customized prizes. Victoria also prepared a surprise video from one of the first Moldovan FLEX alumni, Mircea Ungureanu '94, who now resides in New Jersey, the USA. Of course, the celebration couldn't end without the FLEX cake!
FLEX TALKS Moldova (FLEX 25th Anniversary)

It's FINALLY HERE!On November 30, #FLEXAlumni, American Councils staff, U.S. Embassy representatives and invited guests celebrated 25th Anniversary of #FLEXProgram! The celebration offered a reception, live music, photo gallery, prizes and a series of FLEX Talks. Five alumni speakers shared their inspirational messages with the audience! Get a taste of the celebration in the teaser below and stay tuned to watch the recordings of each speech! They will be posted soon! <3 #FLEX25P.S. Huge thanks to PUMBA creative studio for this amazing video!

Posted by FLEX Alumni Moldova on Monday, December 3, 2018
In case you didn't make it to the event, take a look at the video! Get a taste of the FLEX 25th Anniversary celebrations around the world by following the hashtag #FLEX25.
Written by Victoria Lungu '13