On April 20-22, FLEX alumni in Odesa celebrated Global Youth Service Day (GYSD) by implementing two amazing projects.
Yuliia Shevchenko '16 (Odesa, Ukraine/ Oceanside, CA) and Diana Blotnytska '17 (Chornomorsk,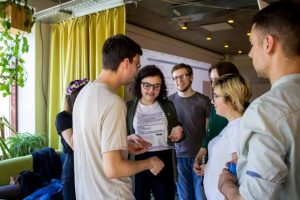 Ukraine/ Grant Township, MI) organized a two-day Sign Language Training. The alumnae invited Oksana Evseeva, a professional interpreter of sign language with more than 17 years of experience and a representative of the Ukrainian Society of the Deaf, as a lead trainer of the event.  During the workshop, the 30 participants learned the alphabet and around 50 signs. Participants also practiced saying their name in sign language, asking basic questions, and answering them.  Evseeva also gave a presentation about challenges faced by deaf community in order to raise awareness surrounding the issue.
Mariia Donets '15 (Odesa, Ukraine/Clear Lake, IA) and Anna Bondarenko '12 (Odesa,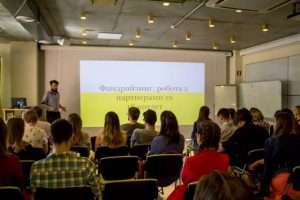 Ukraine/Jamestown, CA), with the help of the Ukrainian Volunteer Service, organized a conference in Odesa in honor of GYSD for change-makers entitled Ottepel (or, the Thaw). The conference aimed at promoting participants' personal development and at developing their project management skills. Participants participated in presentations about social entrepreneurship, leadership, self-development, and various opportunities for the future. During project development sessions, participants brainstormed project ideas in their communities, learned about teamwork and fundraising, and pitched ideas to conference organizers.
"This conference was very special and gathered more than 60 ambitious and bright participants. We invited 14 inspirational speakers who provided the audience with knowledge in different fields, from project management to public speaking. In the end of the conference, nine social projects were presented at the 'Ideas Pitch', and we are excited to see them implemented in the near future", shared project organizer Mariia Donets.
The FLEX Alumni GYSD Matching Grants program funded by the Bureau of Educational and Cultural Affairs (ECA) of the United States Department of State supported the implementation of these projects.
Written by Yuliia Vavryshchuk