Annually, approximately 100 FLEX students have the opportunity to attend a Civic Education Workshop in Washington, D.C. during their exchange year.  For many, it represents one of the most unforgettable weeks of their exchange year!
Alumni continue to be grateful for the once in a lifetime experience of meeting lawmakers on Capitol Hill and sharing their stories. For the alumni in Montenegro, their experience meeting with government officials in the United States lead them to think: Why do we know more about the U.S. government than the government in Montenegro? When faced with this question, the alumni knew exactly what to do: create a Civic Education Week in Montenegro.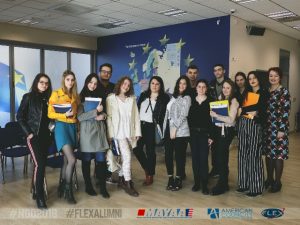 It took quite a lot of planning, hard work, and communication, but fortunately the alumni community in Montenegro is not lacking in any of these qualities.  With the support of a FLEX Alumni Grant, Dina Abazovic '15 (Podgorica, Montenegro/ Winter Park, FL) teamed up with Ksenija Vukmirovic '08 (Podgorica, Montenegro/ Indian Trail, NC) and American Councils County Representative Ivan Vuksanovic '07 (Podgorica, Montenegro/ Durham, NC) to implement this project in Podgorica, Montenegro.
Over 100 high school students applied to participate, with only ten being chosen by project organizers. These ten high school students from cities across Montenegro visited several government institutions in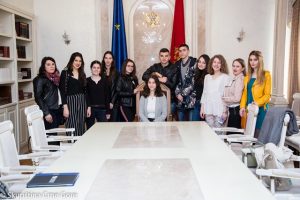 Podgorica to learn about civic education from the institutions' representatives themselves. The participating institutions included the Parliament of Montenegro, the Ministry of Defense, the Ministry of Sport, the European Union Information Centre, the Centre for Civic Education (CGO), and Radio and Television of Montenegro. Representatives from each of these institutions explained their role in the institution and the role of the institution in Montenegrin society.
Participants also gained new insights from lectures by successful Montenegrins, including: Stevan Milivojevic from NGO Progress, who talked about human rights; Mladen Ivanovic, an environmental activist who held a session on volunteering in Podgorica; and representatives from the Union of Young Entrepreneurs Marko Maras, Uros Bulatovic, and Ana Rasovic.
FLEX Alumni also contributed to the event in varying ways, including a presentation how to hold community development projects on a shoestring budget by alumna Zerina Bosovic '16 (Podgorica, Montenegro/ Wichita Falls, TX).  Alumni Coordinator in Montenegro Klaudija Abat '16 (Podgorica, Montenegro/ Edwardsville, IL) provided social media coverage for the entire week and created a comprehensive video that can be viewed below.
Civic Education Week Montenegro

Happy Thursday! As usual, we want to give you a small #throwback, which is very special to us this time.Here is a short video of the amazing Civic Education Week Montenegro our alumni organized. It is a brief recap of all the activities that we have done and we want to give you a taste of how useful and funt his workshop was!Looking back at this experience, there are so many people who were involved to make it as perfect as it was. First, we want to thank all institutions and presenters for their support, time, and knowledge they shared. Thank you Skupstina Crne Gore, Ministarstvo odbrane Crne Gore, Ministarstvo sporta Crne Gore, EU Info Centar, RTCG and Centar za građansko obrazovanje – CGO for giving 10 students from schools across Montenegro an opportunity to learn directly what you do, what opportunities they have and how they can participate in further civic education. A big thank you to Stevan Lestrange Milivojevic for teaching about human rights and sharing the story behind LGBT Forum Progres – Montenegro, Ivanovic Mladen for a wonderful session on volunteering that encouraged all participants to connect with their communities more, Zerina Bosović for sharing your knowledge about zero budget projects to inspire our students and Unija mladih preduzetnika Crne Gore (Marko Maras, Urosh Bulatovic and Ana Rasovic) for introducing entrepreneurship and skills necessary to implement business ideas. We are, as always, grateful for American Corner Podgorica – Anica Vujnovic and Milena Miskovic Vucelic for showing support to all our activities and providing us with useful materials and space. Last but not least we want to reflect on the fact that none of this would be possible without American Councils for International Education and the FLEX program! Thank you for giving us opportunities to help inspire youth in Montenegro. That being said, we are so proud to have alumni with such passion and commitment to implement projects like these, so thank you Dina Abazović, Ivan Vuksanovic, Ksenija Vukmirović, Klaudija Abat for your hard work and of course Hana Lluka, Milica Bozovic and Nevena Djurickovic for your help. Enjoy!

Posted by FLEX Alumni Montenegro on Thursday, April 12, 2018
Upon completing the Montenegrin Civic Education Week, the participants were inspired give back to their community and volunteer with FLEX Alumni. Many participants of the Civic Education Week volunteered together with FLEX alumni in the annual Banka Hrane Food Drive that alumni organized in celebration of Global Youth Service Day.
Written by Klaudija Abat '16