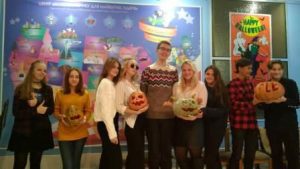 This October, seven FLEX alumni in Southern Ukraine organized five events to share the Halloween experiences that they had during their FLEX exchange year and educate their communities on American Halloween traditions.
Alumni held Halloween Movie Nights.  Anife Osmanova `17 (Staryy Krym, Ukraine/ Concord, MI) held an event in Staryy Krym in Crimea on October 24 where she discussed how Americans celebrate Halloween and showed a Halloween movie in English,  She taught participants  holiday-specific phrases like "trick or treat" and facts. On October 28, Diana Blotnytska `17 (Illichivsk, Ukraine/ Grant Township, MI) and Alisa Hryhorovych `17 (Odeas, Ukraine/ Batesville, IN) hosted a move night with over thirty participants. Following the movie, the alumnae led a discussion comparing Halloween's popularity in the U.S. and Ukraine. "Some elderly people still think of Halloween as an evil holiday, and we'd like to explain to younger generations what Halloween in the U.S. is really about and show them how fun it can be to take part in the celebrations!" says Diana Blotnytska `17.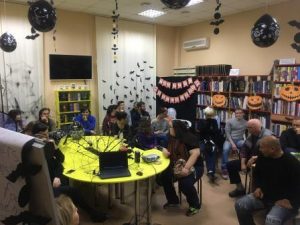 On October 29, alumni Nadiya Myronets `17 (Kherson, Ukraine/ Holland, MI) and Valeriya Syroyizhko `17 (Nova Kakhovka, Ukraine/ Dinuba, CA) were joined by over twenty participants for a FLEX Halloween Party at the Kherson State Children's Library. Nadiya showed participants how to carve pumpkins and make turnip lanterns, followed by a quiz on the history of Halloween.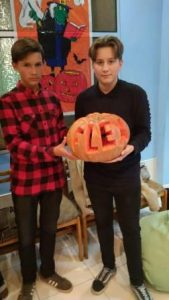 Dasha Kazymyr `17 (Mykolayiv, Ukraine/ Chickamauga, GA) brought the spooky spirit to her hometown, Mykolayiv, by organizing two special Halloween events at her school, the Mykolayiv Grammar School #2. The first event involved a pumpkin carving competition.  The pumpkins were used to to decorate for a FLEX Halloween Celebration Party the following day. During the celebration, Dasha and fellow FLEX alumna Anna Haysha`17 (Mykolayiv, Ukraine/ West Des Moines, IA) discussed their FLEX experiences and showed a video explaining Halloween traditions in the U.S.  The 75 event participants at the event then broke into groups to give Halloween-related performances, such as singing "Ghost Town" or re-enacting the famous Ghostbusters' dance.  Dasha also hosted a second event at the Mykolayiv Window on America Center where community members of all ages came dressed in  costumes such as wizards, witches, and superheroes. Each participant was asked to give a short presentation on his or her costume. These presentations were followed by games, Halloween quizzes, and sharing of scary stories.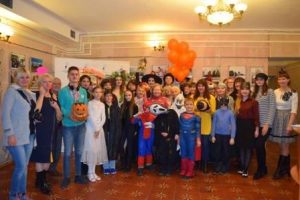 FLEX alumni of Southern Ukraine worked hard to show their fellow Ukrainians what Halloween is truly about. They all agree they would definitely do it again, because it was a SPOOKtacular experience!
Written by Diana Blotnytska'17