Children learn by playing and toys serve as the instruments that allow them to discover the world in which they live. As such, toys not only provide pure enjoyment to children, but they also provide children with an opportunity to learn and develop. According to Child Development Institute, toys support cognitive and emotional development, spark imagination, strengthen social skills, and teach kids empathy and care.  In Georgia, there are number of families living in poverty, who often are not able to afford toys for their kids. For parents, buying a new toy becomes a low priority when the most basic needs of their children are not being met.
The Share a Toy project is based on the idea that every child should have the opportunity to develop by playing with toys. The project allows for unused toys to be used, and in a way, creates positive social change. Alumni in Tbilisi, Georgia installed wooden boxes in commercial centers, cafes, and bookstores and put out the call for the community to donate toys. After a collection period of three months, alumni gathered the donated toys and ascertained that all of the toys met a prescribed safety standard. The alumni partnered with the Lavasecco Dry Cleaning Company  to clean the toys and the Chita Toy Store also supported the project by donating 35 brand new toys.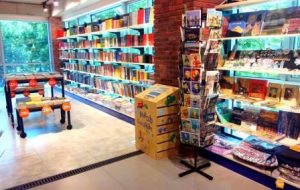 On October 27, Project Coordinator Marika Kurdadze '09 and FLEX Alumni Coordinator Anuka Chonishvili '12 travelled to the Berbuki IDP Settlement to deliver the donated toys and play games with the children.
This project is ongoing in cooperation with the Share a Toy initiative and the  wooden boxes are still in place at many commercial centers in Tbilisi.