I remember that my flight to the U.S. was on Friday 13 – I was trembling – it was the first time that I had ever been in an airplane.  In the end, Dad was right. That year in the U.S. changed my life completely.' says Yulia Simonova.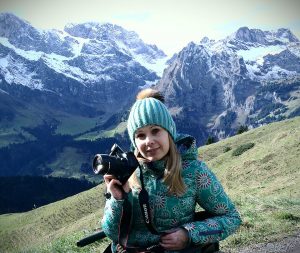 Yulia Simonova '02
Moscow, Russia / Vancouver, Washington
Education: Degree in Linguistics from the Moscow Institute of Interpreters
When Yulia Simonova '02 was 10 years old, she damaged her spine during gymnastics training and has since had to use a wheelchair.  At the time, most places in Moscow were inaccessible for wheelchair users; therefore she could no longer attend regular school or move around Moscow. But in the following years she turned her life around and worked tirelessly to help many others to do the same.
Can you describe your life after the accident? I found myself stuck in our apartment on the fifth floor, which had no ramps or an elevator. The teachers came over to teach me lessons and at the beginning my friends tried to visit me regularly as well. But I was so ashamed of my disability that I never wanted to see them. Eventually they stopped calling.
Were you excited when you found out that you had been selected as a FLEX finalist? I was thrilled to be selected, but I was very scared of going to the U.S. I had been limited in my movements for years before that and couldn't imagine flying to the other side of the world. My mother was really nervous too – I had never left home without my parents.  My Dad encouraged me to go. I remember him saying: 'This opportunity is given in life only once – you shouldn't let it pass'. So, I decided to go for it. I remember that my flight to the U.S. was on Friday 13 – I was trembling – it was the first time that I had ever been in an airplane.  In the end, Dad was right. That year in the U.S. changed my life completely.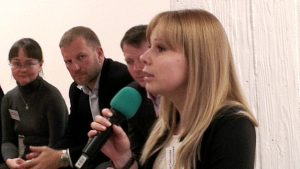 In what way did it change your life? I was amazed to see how prepared American schools were for children with disabilities, no matter the disability.  In Washington, I did everything together with other students – studied, went to parties, made dinners for homeless people, and washed cars to raise money for good causes. My host mother is also a wheelchair user and seeing how easily she moved around the area in a car, I decided to get my driving license when I got back to Russia. Experiencing inclusive education first-hand had was tremendously important. Upon my return home I decided to introduce it in Russia and joined the disability rights NGO Perspektiva.
How did you start? At the time, even the concept of inclusive education was unknown to the majority of Russians and I began by raising awareness of the topic among various groups of people – parents, teachers, and state officials. We also started inviting foreign experts from the U.S., UK, Canada, and even far-away New Zealand to conduct seminars for teachers.  For example, one American specialist taught Russian teachers how to involve students with intellectual disabilities in the educational process. The teachers here understood how to work with students with physical disabilities, but they had no experience in working with learning differences. Besides that we also created social advertising and conducted "Classes of Kindness" for the student body at schools where inclusive education programs would be launched.  All of the programs helped us to prepare the ground for children with disabilities who entered their local schools. It started in 2005 with a couple of schools in Moscow and gradually spread to most other schools in the city. (You can watch one of Yulia's seminars here).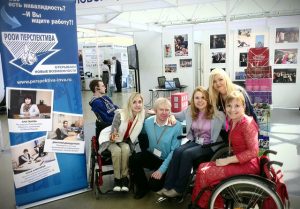 Did you also try to change the law? We did. We advocated for change in legislation and achieved some great successes. In 2012 Russia ratified the UN Convention on the Rights of Persons with Disabilities and in the following year the State Duma adopted the law on inclusive education providing children with disabilities with the opportunity to attend regular schools. Our lawyers who represent the NGO in the Russian Civic Chamber and the State Duma introduced our amendments to the bill.
What impact did the state law have? Ten years ago a school could refuse a student with a disability without any reason. Nowadays it's illegal. Every school is obliged to provide support, such as tutors and materials. Previously no one could help students in wheelchairs to move around apart from their parents. That's why often at least one parent couldn't have a full-time job and it also had a negative impact on their children. We all behave differently around our parents and those students couldn't learn to adapt to the school environment.
How is the situation outside of Moscow? Sadly, the situation in the provinces is still pretty grim, since most schools and kindergartens aren't equipped to receive students with disabilities and most of the time they remain at home or go to special schools. I'm, of course, not against the idea of special schools or home schooling but every student with a disability must have choices.  Even in Moscow and St Petersburg there's still a lot to be achieved. However, the difference between a decade ago and nowadays is immense.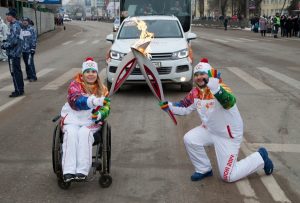 In 2014 you were selected to carry the Olympic Torch in the Sochi Winter Olympics Torch Relay. Can you tell me about this experience? It was one of the best days of my life. I submitted an application form in which I described my work and was selected among many other applicants. I carried the torch in the city of Voronezh. I can't describe how nervous I was – I didn't sleep the whole night. My head was full of worries: 'What if my torch doesn't light up? What if the fire dies half the way through?'
And how did it go? Those ten minutes were unforgettable. The route went through the center of the city and I was greeted by crowds of people on both sides of the road. I had a torch in one hand and waved to crowds of people with the other. For a month afterwards I told everyone about this experience. My torch was given to me as a souvenir and I show it to children at my Classes of Kindness.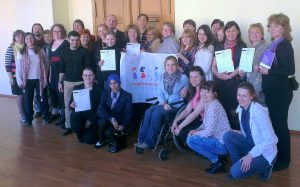 What are the most important changes in the field of disability rights in Russia in the last ten years? The most important thing is that the attitude of society is beginning to change. People with disabilities are no longer limited to finding work in the disability sector and stereotypes are slowly beginning to
fade away. Still, people with disabilities are often portrayed as either martyrs or heroes.  They are ordinary people, just like everyone else, – some are determined and some are lazy, some are easy-going and funny and some are difficult. In our interviews to the media and during classes in schools I always highlight this fact. Working with children is particularly important. They are responsible for shaping our future and we need to bring them up in a diverse, kind, and tolerant society. (An interview with Yulia in Russian can be found here).
What is your advice to the FLEX alumni? Set your goals and work towards them even if they seem unachievable at a first glance. Be active – and people will join you with their ideas!
Interview written by Tatyana Movshevich