Project Organizer: Mariam Mepistsveridze '15 Event Location: Tbilisi, Georgia $ 381 in FLEX Alumni Grant Funds $ 800 cost share from: Hematologist Dr Nino Seskuria, Head of Onco-Hematology Department at Iashvili Children's Hospital Asmat Shengelaia, Psychotherapist at Medulla Clinic Tamar Kakhniashvili, artist Davit Popiashvili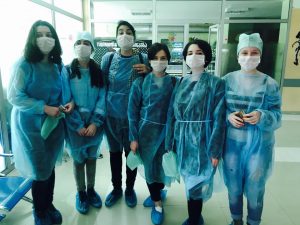 To inspire medical students to choose pediatric oncology and haematology as their future field of specialisation and to raise awareness about childhood cancer Mariam Mepistsveridze '15 and three other FLEX alumni conducted a unique cancer awareness campaign in Tbilisi, Georgia.  
'Georgia lacks pediatric oncologists and so the goal of our campaign was to give medical students an opportunity to learn more about hematology, meet well-known specialists and visit brave cancer fighters in a children's hospital,' says Mariam.
On April 15 a group of students from David Tvildiani Medical Univeristy visited the Pediatric Onco-Hematology Department at Iashvili Children's Hospital where they met young cancer patients, attended an art lesson conducted by Davit Popiashvili and a medical discussion with the department head Dr Nino Seskuria. Prior to the visit the FLEX alumna had conducted a charity cartoon night at the American Councils Office in Tbilisi during which she collected books, toys and stationary for children who are currently treated at the center.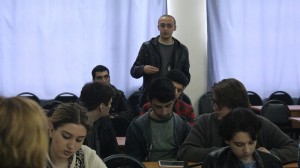 On the next day students from two Tbilisi medical universities took part in a seminar on the topic of acute childhood leukemia led by Dr  Nino Seskuria and a psychotherapist Tamar Kakhniashvili. After the seminar the students had a chance to ask both doctors specific questions about their work.
As a result of the project a few participants decided to specialize in pediatric oncology and return to the center upon graduation.