Sergiy Stupak '15
Project Location: Zaporizhzhya, Mykolayiv, Kyiv, Vinnytsia, Cherkasy, Ivano-Frankivsk, Kharkiv, Odesa, Chernivtsi, Dnipropetrovsk, Kherson, Poltava, Chernihiv, Rivne, Zhytomyr, and Khmelnytsky, Ukraine
$420 in Eastern Europe FLEX-Ability Grant Funding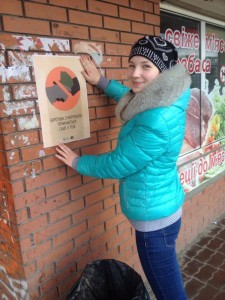 From March 1 – April 6, Sergiy Stupak '15 led a group of 16 FLEX alumni in the 'Say "No" to Corruption' campaign aiming to raise awareness about the individual's role in fighting corruption. The campaign was based on the anti-corruption and transparency information which was received by the FLEX alumni at the FLEX-Ability Workshop.
Six workshop participants, Sergiy Stupak '15, Darya Honcharova '15, Darya Batsan '15, Mariya Donets '15, Maryna Kovalenko'15, Yelyzaveta Petrova '13 and Yuliya Hundyak '14, led the campaign's presentations and worked with other FLEX alumni across Ukraine.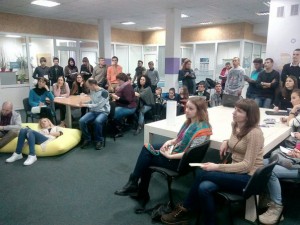 Posters with the message "The fight against corruption starts exactly with you" designed by Alexander (Oleksandr) Lukan '15 were distributed in key public areas, such as hospitals, schools, universities and city council buildings, in the 15 largest cities in Ukraine. Afterwards the FLEX alumni organized presentations on the topic of anti-corruption at schools, universities, and other community hubs which were attended by more than 950 people.