Project Organizer: Nana Katchashvili '10 Event Location: Tserovani, Georgia $430 in FLEX Alumni GYSD Matching Grant Funding $675 cost share from: NGO 'For Better Future', FLEX alumni, volunteers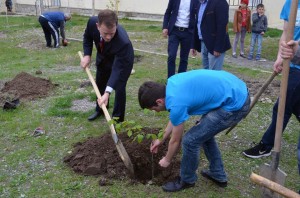 'Tserovani IDP settlement is situated next to a central highway.  The air there is polluted and bronchial diseases among children are common. In the summer when the temperatures rise, children are exposed to direct sunlight since the community doesn't have a public park,' says Nana.
On April 14, a team of ten FLEX alumni joined forces with members of the Tserovani community and volunteers to create a park for over 5000 people. In total 70 trees were planted by 55 volunteers, among whom were the Deputy Chief of Mission at the U.S. Embassy Nicholas Berliner and other U.S. Embassy staff. The main project partner was the NGO 'For Better Future', which provided logistical support, lunch and tools for free.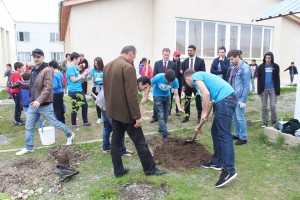 The local community was actively involved in the initiative and will take care of the trees in the years to come. Bringing community members together and developing the culture of volunteering was one of Nana's project goals. 'When studying in the U.S. I was excited to see how much people cared about their communities and how hard they tried to improve them. Upon my return, I realized that I could do the same thing in Georgia and together with my fellow FLEX alumni made my contribution to Tserovani's development,' says Nana.
More photos of the project can be found here.