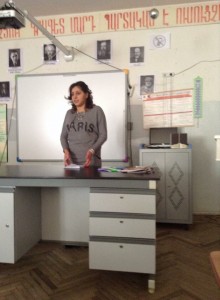 Arusyak Poghosyan '14
Project Title: How to Start Your Career
Project Location: Hrazdan, Armenia
$ 250 in South Caucasus FLEX-Ability Grant funding  
Arusyak Poghosyan '14 conducted career skills trainings for 72 Hrazdan High School students on December 18-22. Using the knowledge that the alumna learned at the South Caucasus FLEX-Ability Workshop, Arusyak held two trainings on resume writing and job interview techniques to offer participants a head start in their job searches. Arusyak talked about how to compile a resume, what information to highlight, and what not to include.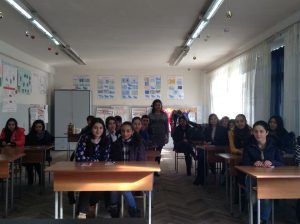 The trainings took place during the oral high school exam period and students found the information, relating to job interview preparation particularly useful. Over the course of the presentations Arusyak also talked about her FLEX experience, describing her involvement in a FLEX-Ability program and other alumni projects. Afterwards the school published photos of the events on their website.
Arusyak highlights that the participants of the FLEX-Ability Workshop successfully used their knowledge and new-found skills. She is confident that her participation in the workshop enhanced her leadership and organizational skills and made her more knowledgeable through the process of teaching others.