Mariam Ichkiti '13 Project Title: The Power of Volunteering Project Location:  Mejvriskhevi, Georgia $58 in South Caucasus FLEX-Ability Grant funding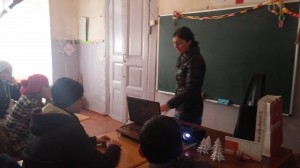 On December 12-13, Mariam Ichkiti '13 promoted the values of volunteering by conducting four educational seminars for 30 middle school students in her native village of Mejvriskhevi.  The participants discussed the impact of community service on the society and the ways they can contribute to their local community. 'I believe that volunteering is the best way to help people in your community,' says Mariam.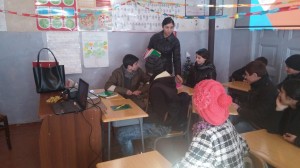 To jump from theory to practice, the FLEX alumna and the participants planned clean up events  in their area, which were later organized by students independently. The aim of the events was to spread the message about volunteering and to involve more young people from the village in community work.
'At the South Caucasus FLEX-Ability Workshop I learned how to engage the audience from the very start. I used ice breakers and energizers and we had a lot of fun! Without this workshop my seminars wouldn't have been so successful,' says Mariam.