Ana Ramishvili '15 Project Title: Snap the Moment Project Location: Batumi, Georgia $ 60 in South Caucasus FLEX-Ability Grant funding  
On December 16, Ana Ramishvili '15 implemented a photography and video training for 15 students with disabilities in Batumi Public School #7 and four high school teachers. Participants learned how to work with the camera, make short videos and cartoons, and edit the filmed material.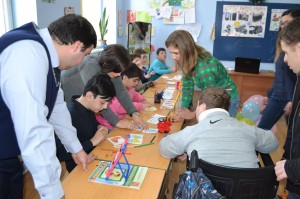 Ana received the knowledge of video editing skills and project management at the South Caucasus FLEX-Ability Workshop. 'Following the example of my trainers, I asked participants engaging questions, gave them fun quizzes, and used interactive techniques. As a result of the event everyone learned and gained an appreciation for this new topic,' says Ana.