Mariam Arakhamia '15 and Mariam Mepistsveridze '15 Project Title: Learning Is Fun Project Location: Tbilisi and Zugdidi, Georgia $ 231.60 in South Caucasus FLEX-Ability Grant program  
Mariam Arakhamia '15 and Mariam Mepistsveridze '15 organized a seminar on the topic of English language and social media at the Klasikuri Gymnasia and at the Zugdidi American Corner on December 9 and 12.  In total the seminars brought together 116 students to develop new skills and learn about the FLEX program.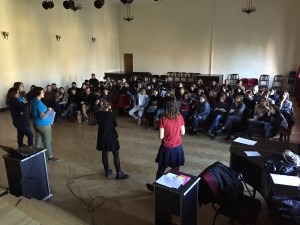 Mariam Mepistsveridze '15 held trainings to teach participants how to learn English through digital apps and multimedia materials. 'Learning English can be very fun and easy if you use the right materials,' shared the organizers. 'Improving the learning environment was another topic of the discussion. Students came up with ideas on how to make their classrooms more comfortable for studying – they suggested rearranging desks, decorating walls with posters and even getting an aquarium.'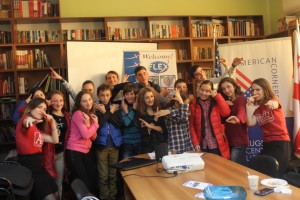 Mariam Arakhamia's session was dedicated to video editing and social media. Participants learned how to successfully post on social media and promote ideas and projects across various online platforms.  They also learned the basics of preparing videos.