Nana Chigoga '14 (Georgia) in partnership with Nune Harutyunyan '13 (Armenia)
Project Title: Staircase to Success
Project Location: Akhalkalaki and Akhaltsikhe, Georgia
$250 in South Caucasus FLEX-Ability Grant Funding
On November 27-28, Nana Chigoga '14 together with Nune Harutyunyan '13 conducted a two-day career development training for 47 university and high school students and English language teachers. The training took place at Akhalkalaki Public School # 1 and the Akhaltsikhe Civic Engagement Center.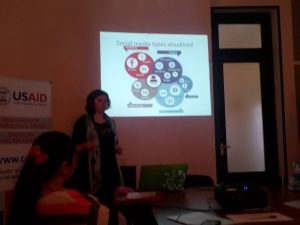 The first part of the day was dedicated to resume writing. The participants studied the examples of different types of resumes selecting the most concise and well-written ones. Later they were introduced to Linkedin, through which they defined the connection between resume writing and social media. The participants learned how to compile successful cover letters and prepare for job interviews.
The effective use of social media was the topic for the second half of the training. Students and teachers created a mock social media campaign, teaching them how to effectively promote and hold follow on project reporting via social media. The FLEX organizers also presented innovative tools for social media monitoring and research.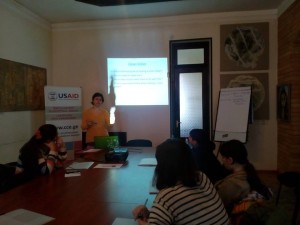 'In their feedback surveys more than half of the participants noted that they had never heard about these tools before the training and would definitely use the new knowledge in developing social media campaigns,' says Nana.
The FLEX alumnae are confident that the South Caucasus FLEX-Ability Workshop had a big impact on their professional development: '…The workshop helped me gather my thoughts and share them with the audience. Using the examples provided by the trainers, I taught students how much they can achieve by posting their ideas on social media and backing them up with in-depth research.'