Alvard Mamikonyan '13
Project Title: Improve Your English
Project Location: Charentsavan, Armenia
$250 in South Caucasus FLEX-Ability Grants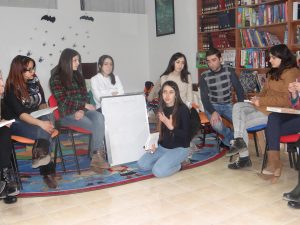 From November 21 – December 15, Alvard Mamikonyan '13 conducted English language and leadership trainings for local high school and university students.  Hosted at the American Corner in his native town Charentsavan, Armenia, the training aimed at enhancing students' English language, public speaking, debating, and resume-writing skills. All the trainings were student-centered and taught through interactive exercises, which ensured student engagement throughout the day.
'We chose topics that stirred their interest, such as over-parenting, and gave them a chance to express their opinions on each subject. This approach made English learning really fun for everyone,' says Alvard.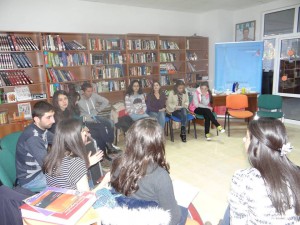 Alumna organized multi-level classes focusing on the individual abilities of each student. 'Students with developed English language skills were asked more analytical questions than the ones who had started studying English recently. Everyone was involved and appreciated,' remembers Alvard.
She considers herself to be one of the indirect beneficiaries of the project. 'Through this project I improved my leadership and organizational skills and used the tools that I learned at the South Caucasus FLEX-Ability Workshop'.