Nune Harutyunyan '13 (Armenia) in partnership with Nana Chigoga '14 (Georgia) Project Title: Staircase to Success Project Location: Yerevan and Gyumri, Armenia $ 245 in South Caucasus FLEX-Ability Grants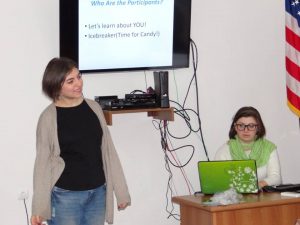 Inspired by the South Caucasus FLEX-Ability Workshop, on November 21-22, Nune Harutyunyan '13 in partnership with Nana Chigoga '14 from Georgia conducted a career development training for high school and university students and English teachers at the American Councils office in Yerevan and the American Corner in Gyumri. The goal of the project was to provide the participants with knowledge on applying for jobs and  different methods of digital communication and research. Over 80 applicants applied to participate in the training via Facebook out of which 60 finalists were selected.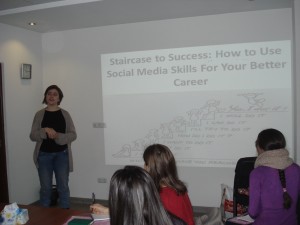 FLEX alumnae taught the participants how to compile resumes and cover letters, gave them tips on how to prepare for and succeed in job interviews, and introduced various digital professional networks, such as LinkedIn. A special emphasis was placed on giving the participants an opportunity to practice and be creative.  As the alumnae trainers gave examples of resumes, participants were asked to answered tricky interview questions and even developed their own digital campaign. 'Once we focused on  fun and challenging activities, the new information became accessible,' says Nune.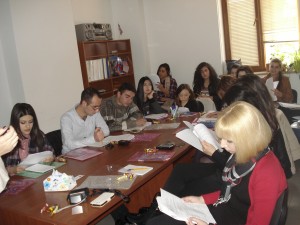 For Nune one of the highlights of the event was to successfully engage audiences of mixed ages and professional backgrounds. 'It was interesting to see how, despite having the same content, the seminars turned out to be completely different. In Yerevan the audience was older and had a lot of preliminary knowledge, while in Gyumri it consisted mostly of young people who hadn't heard much about either LinkedIn or resume writing. But in both cities people were excited and inspired'.
According to the follow-up surveys, all of the participants found the seminar useful in their professional development. The training encouraged them to open LinkedIn accounts, create and edit their resumes, and master their English language skills.