'FLEX was the springboard experience of my life. It exposed me to the side of my personality which I wouldn't have discovered otherwise – it taught me the importance of responsibility and self-motivation.'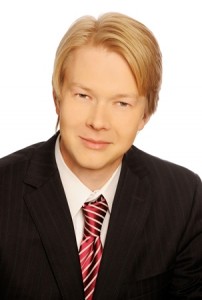 Sergey Kulyagin '97
Stavropol, Russia / Rosemount, Minnesota
Education: Degree in Linguistics and Cross Cultural Communication + Computer Science from Stavropol State University, MBA in International Business and Finance from Shenandoah University, Winchester, VA
Sergey Kulyagin first participated in the Global Village** as a participant in 2003. At the time he was in the midst of an MBA course having had years of humanitarian aid work behind him. Five weeks spent at the Global Village reassured him in his decision to build a career in business and highlighted the importance of diversity and 'endless curiosity'. This summer with a CV full of executive positions in his pocket, Sergey returned to the Global Village as Guide and Mentor sharing his skills and experience with program participants.
One of Sergey's main responsibilities as a Mentor was to advise the participants how to move forward with their careers based on their strengths and weaknesses. 'I'm happy that my professional experience allowed me to have a meaningful impact on people. Contributing to the Global Village by working with dynamic creative people was a very rewarding experience,' says Sergey.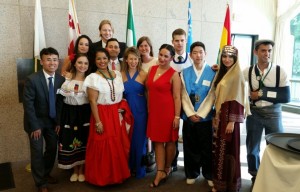 He inspired the villagers to pursue their entrepreneurial spirit by choosing the right workplace: 'Many people don't realize that in order to do something innovative you do not necessarily have to start your own business. There are many companies that encourage it and seek out people with curiosity and a creative impulse'.
Sergey believes that his own creative impulse combined with the global outlook was what made him attractive to employers in the first place: 'A range of different international experiences got me through the door – endless curiosity helped me grow. Apart from the FLEX, the Global Village, and MBA programs, I also worked as Interagency Officer for the Danish Refugee Council in between two Chechen wars and was on the educational committee of two Education Without Borders conferences in Abu-Dhabi'.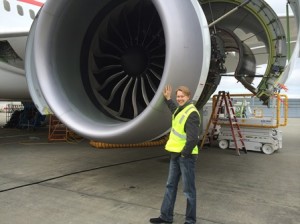 His story of getting his first job at the aircraft manufacturer Airbus seems fit for a Hollywood film. A couple of months before finishing his MBA course Sergey's class was given an assignment to interview the CEO of any company. Not knowing how to begin, Sergey first tried his networks at Airbus North America to which he had previously sent his CV. It didn't work and feeling gradually more anxious he came up with an alternative plan – he tried to guess the email address of the CEO of Airbus North America by using a standard scheme: name@companyname.com
The email didn't bounce back but there was no reply and he wrote to the same address again.  Contrary to his expectations, this time Sergey was successful. Presumably having glanced at his CV and feeling impressed by his determination, the CEO agreed to be interviewed.
A few weeks later with a crisp MBA certificate in his pocket Sergey walked through the same doors again, only this time the CEO was the one interviewing him for the position of Marketing Manager. Sergey got the job.  Quickly progressing in his role, he stayed at Airbus for the next three years after which he decided to try his luck in New York: 'I knew that making it there would be very tough, but I wanted to try. There was an opening at a niche aviation management consulting firm 'Seabury Aviation and Aerospace', I went for it and got hired'.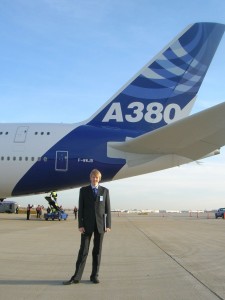 As expected, the competition in the global financial capital was fierce, yet Sergey enjoyed his new responsibilities and moved from Senior Analyst to Senior Associate position in just two and a half years. 'The work was completely out of my comfort zone, but I found it very interesting and learned how to do it.  Management consulting suits only certain people. You need to be able to identify 20 percent of important stuff and dedicate 80 percent of your time to it – a skill that doesn't come easily or naturally to many.  It also requires you to be very structured in problem solving. You either sink or swim depending on whether you are able to develop these skills quickly,' he says.
Yet when another exciting opportunity to participate in the restructuring of the International Lease Finance Corporation, then the largest independent aircraft lessor in the world, presented itself, he knew that it was time to move on.
At ILFC, which at the time was owned by a global insurance conglomerate AIG, Sergey was employee number one at the Strategic Planning Department. That meant that he was in charge of planning and executing the company's strategic projects. 'The thing that made working at ILFC truly exciting was its culture that encouraged entrepreneurship and creative problem solving,' remembers Sergey.  'We worked on large strategic initiatives such as the IPO process, acquisition of a large number of aircrafts as well as a subsidiary company. We conducted internal infrastructure and operational improvement projects within the company and, ultimately, divestiture of ILFC by AIG'.
When AIG sold ILFC to a competitor and the C-Suite leadership of the company was disbanded, Sergey decided that it was time for him to leave his current position. 'I don't regret my decision as it required a move overseas and my new role would have shifted my focus to a less exciting portfolio of projects. More importantly, I had a chance to contribute at the Global Village'.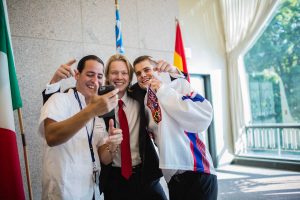 While at the Global Village Sergey visited American Councils office in Washington DC together with a group of FLEX villagers and felt inspired to reunite with the FLEX community. 'FLEX was the springboard experience of my life. It exposed me to the side of my personality which I wouldn't have discovered otherwise – it taught me the importance of responsibility and self-motivation,' he says.
Currently on his long-awaited sabbatical, Sergey finally has time for all the projects which have been pushed aside for years. He is developing his own real estate investment firm, regularly plays tennis, and plans to spend some time in Europe learning French and Spanish.
'The hardest thing for me, and probably for everyone, is to figure out who you are. As Mark Twain once said: 'The two most important days in your life are the day you are born and the day you find out why'. Don't be afraid to try new things and be influenced by new people and ideas as without pursuing change you will never fully understand yourself,' advises Sergey to the FLEX alumni.
** The Global Village for Future Leaders of Business and Industry at Lee Iacocca Institute, Lehigh University, is a five-week intensive summer program where 100 young people from all over the world develop their business and entrepreneurial skills, while sharing the values of diversity and multiculturalism.  Over the course of the program, villagers take courses, attend executive sessions, develop their own business projects, and take part in a variety of cultural events and excursions. FLEX alumni are eligible to apply for a full or partial scholarship to attend Global Village that is administered by American Councils in cooperation with the Iacocca Institute and funded by the U.S. Department of State.
Article written by Tatyana Movshevich