Daryna Lapay '07 (Odessa, Ukraine/ Gilbert, AZ)
Project title: English Summer Camp Unity for Ukrainian Youth
Project Location: Zatoka, Ukraine
$2000 in 2015 FLEX Alumni Grant Program Funding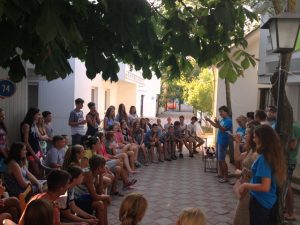 Daryna Lapay '07 together with 13 FLEX alumni and staff at the I Love English Linguistic School held the English Summer Camp Unity for Ukrainian Youth for 100 students. The participants, who ranged in age from 12-18 representing 18 regions of Ukraine, took part in classes to develop their English language skills and develop a sense of unity among Ukrainian youth from different regions of the country.  The theme of Ukrainian unity was a central theme of the camp.
Camp Unity is an initiative started by the I Love English Linguistic School in 2014. Founded by Bogdan Lapay, a finalist of TEA program and funded by the U.S. Department of State, The Linguistic School is a hub of activity for alumni in the Kharkiv region, with nearly fifty alumni having studied or taught at the school,  After the success of the previous camps,  held in summer and winter 2014-2015, Unity traveled to the small coastal town of Zatoka in the Odessa region for the English Summer Camp Unity for Ukrainian Youth on August 3-12.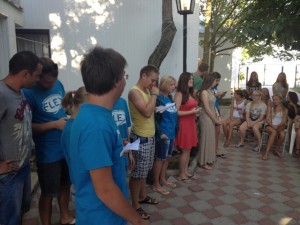 To create an effective learning environment, campers were divided into groups based on their level of English and age. Each camper took part in four English language classes daily and additional classes on human rights, multiculturalism, and current and global issues. In the evening student prepared and participated in a wide range of fun activities like talent and fashion shows, festivals, sport competitions, and theme nights, all of which came out of project planning lessons.  The Unity camp also promoted the FLEX program among the participants and as the result, all 100 students expressed interest in applying for the program.
The campers were asked to communicate in English all days long. It was difficult for many at first, but with the support from organizers, teachers, and new friends the challenge soon became exciting.  'Team spirit made it easy for the participants to find a common language among themselves. Throughout the course of the camp we became one big family,' says Daryna Lapay '07.
The enthusiasm of campers was a great motivation for the organizers, who would like to hold this camp for youth in the region twice a year.