Anastasiya Karavan '14 (Chernihiv, Ukraine) Event Location: Bila Tserkva (Kyiv Region), Cherkasy, Rohatyn (Ivano-Frankivsk Region), Chernivtsi, Zaporizhzhia, Chernihiv, Kharkiv, Sumy, Poltava, Okhtyrka (Sumy Region), Zalishchiky (Ternopil Region), Chortkiv (Ternopil Region), Rivne, Mayaky (Volyn Region), Zhytomyr, Dnipropetrovsk, Khust (Zakarpatia Region) $428 FLEX GYSD Alumni Grant Funding $620 cost share from: Schools, government institutions, CACTUS alumni association and volunteer trainers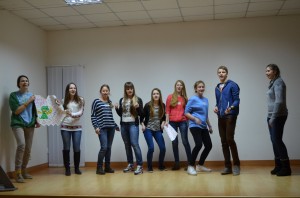 During March 1 – June 1 Anastasiya Karavan '14 and Roman Vydro '10 with the CACTUS organizing team held a Community ACTion Ukrainian Style (CACTUS) Practice projects for GYSD 2015.  CACTUS is a time-honored project with the goal of teaching Ukrainian youth the fundamentals of volunteerism, civic activism, and community service on the local level, culminating in the development of participants' own community service projects.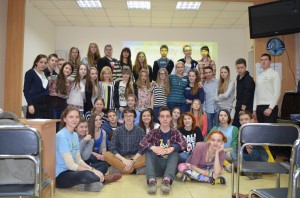 As of 1st of June CACTUS team had 17 Practice CACTUS Seminars in 15 Regions of Ukraine, bringing Practice CACTUS Seminars to regions that were never exposed to similar seminars.  680 participants were enrolled in Practice CACTUS Seminars. CACTUS has team of 66 volunteer trainers.
During the Practice CACTUS, the organizing team introduced a new lesson on Peace Building and promoted FLEX Program and GYSD campaign.
You can join the Practice CACTUS group on Facebook and Vkontakte.