Eliza Melkonyan (Yerevan, Armenia) Event Location: Spitak, Jrashen, Gogaran, Sarahart and Saramej-Lori $469 FLEX Alumni Grant Funding $600 cost share from: Spitak Farmer NGO, volunteer speakers and FLEX alumni volunteers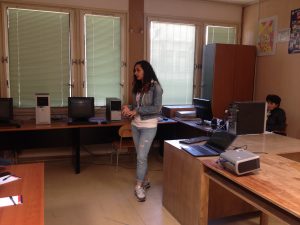 Armenia is situated in a seismically active region with the risk of a higher magnitude earthquake being very high. In 1988 the northern region of the country suffered a devastating earthquake known as 'Spitak Earthquake' claiming lives of up to 45 thousand people.
Eliza Melkonyan '14 and Suren Karapetyan '09 in partnership with Spitak Farmer NGO started a year-long project aimed at spreading information on safe behavior during an earthquake among residents of five northern towns (Spitak, Jrashen, Gogaran, Sarahart and Saramej-Lori).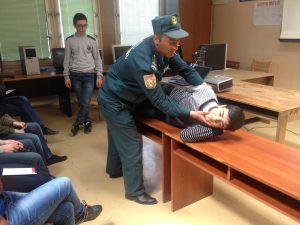 The first stage of the project was implemented at the office of Spitak Farmer NGO on April 18th. 20 youth volunteers representing the five towns received training on behavior rules before, during and after an earthquake.  Mr. Vardanyan, a former employee of the State Emergency Service with substantial experience in earthquake safety taught volunteers how to provide first aid and survive under ruins until the arrival of rescue team. FLEX alumni also did presentations and showed volunteers how to quickly gather a disaster supply kit.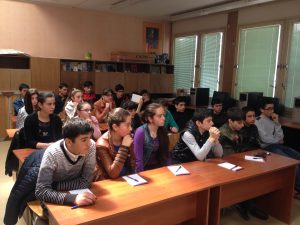 Having received the necessary training volunteers are now planning to share the knowledge in earthquake safety with their communities by conducting three seminars over the course of next year. The first seminar will take place in July and be extensively covered on social media.  In case the project is successful and has a wide outreach in all towns, Spitak Farmer NGO will provide FLEX alumni and volunteers with funding for another year.