Yelizaveta Mazharova '12 (Kharkiv, Ukraine) Event Location: Kharkiv $493 FLEX Alumni Grant Funding $1650 cost share from: 7D Amusement Ride Deep, the DAR event agencies and XXI century, Feldman Ecopark, the Prityazhenie, Format and Muraway trampolining and climbing clubs, the 
Korsar and S-park 
rope parks, 
Sledstviye Suvorova
quest room; and volunteer photographers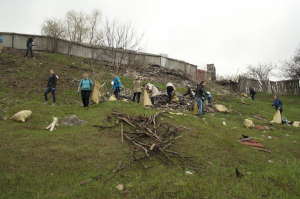 Oasis in the City Center is a project implemented by Yelizaveta Mazharova '12 with the support of the Kharkiv City Council, environmental NGOs, and local businesses to restore the area of Savkin Yar. In the past Savkin Yar, birthplace of a famous Ukrainian philosopher Grigory Skovoroda, was one of the most picturesque places in the region, but in recent years it has been turned into a wasteland that has a devastating effect on the environment.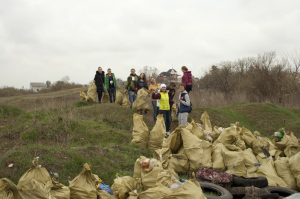 On April 18, together with a team of 300 volunteers Yelizaveta Mazharova co-organized a major clean up of Savkin Yar. Over the course of the day they collected more than 600 bags of garbage, 250 of which were later recycled.  To make sure that all the participants were energized for long hours ahead, the event started with a collective workout. Later in the day other forms of entertainment were offered to volunteers – a poetry reading, a pantomime performance, and a fun quest.  The most active participants received gifts and certificates for free rides in theme parks.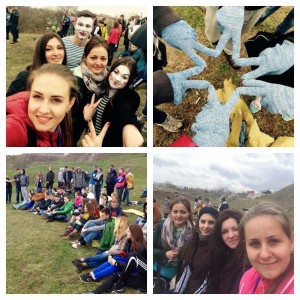 Mass participation in the Savkin Yar clean-up was met by promoting it actively on social media. It was advertised on the project website while a separate vkontakte page was created specifically for this event. Afterwards it was broadcast on a local TV channel.
Even though uncovering a vast territory from underneath many layers of garbage in one day seems like a great success, the organizers have a much bigger ambition. They endeavor to create a unique eco-tourism zone in the middle of Kharkiv, which will allow local residents and city visitors to enjoy the beautiful scenery and bring back the compelling history of the place.